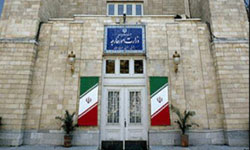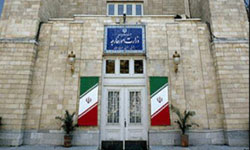 The Iranian foreign ministry on Sunday explained about the contents of Tehran's six-point plan for solving the problems in Syria, saying stop of violence and preventing foreign military intervention stand atop the proposal.
According to the foreign ministry, the first step is stopping violence and preventing military intervention of other countries in the Syrian issue.
The second step is preventing the shipment of weapons and holding national talks. Setting up a committee of the representatives of the Syrian people and government to reach an agreement on necessary reforms, taking steps to hold elections, reforming the Constitution as well as holding parliamentary and presidential elections are among the other moves demanded by the Iranian proposal.
The Islamic Republic of Iran, which is a staunch supporter of the establishment of security and stability in Syria, has practically made a series of moves in the same regard, including its recent call for ceasefire which was staged in Syria in October, and the holding of the Syrian National Dialogue conference in Tehran between the Syrian opposition and government in November.
Over 200 Syrian religious and political figures, leaders of tribes and parties as well as representatives and leaders of the opposition groups joined the two-day meeting in Tehran which kicked off on Sunday.
A number of Syrian parliament members as well as senior political figures from Sudan, Algeria, Turkey, Egypt, Lebanon, Iraq, Brazil and Zimbabwe also took part in the meeting.
Also, Supreme Leader of the Islamic Revolution Ayatollah Seyed Ali Khamenei called on the Syrian opposition forces to end armed campaign against the Damascus government to pave the ground for talks.
"If the opposition forces in Syria give up their weapons, then the government can be demanded to listen to the opposition views and allow them to express their views," Ayatollah Khamenei said in a meeting with Iranian Hajj officials here in Tehran on Monday.
He blasted certain foreign countries for equipping terrorists in Syria with weapons, and said the only way to settle the crisis in the country is preventing the shipment of arms to rebels.
Ayatollah Khamenei said that the arrogant powers want to weaken and annihilate Syria as main ring in the chain of resistance through arming terrorists in the country, but they will fail in their attempt.