Asia-Pacific
Iran
Iranian FM Stresses Ample Potential for Expansion of Iran-Sri Lanka Relations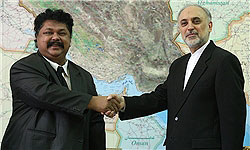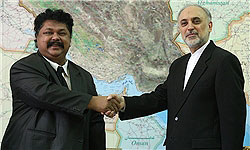 Iranian Foreign Minister Ali Akbar Salehi underlined that Iran and Sri Lanka enjoy abundant potentials and capacities for developing their all-out relations.
Speaking in a meeting with new Sri Lankan Ambassador to Tehran Mohammad Feisal Razin on Saturday, Salehi described the relations between Tehran and Colombo as "very good".
He voiced Iran's readiness to boost ties with the South Asian nation, and stated, "The two countries enjoy high capacities in trade, economy, health and culture … and we are prepared to expand bilateral ties in all fields."
During the meeting, the Sri Lankan diplomat submitted a copy of his credentials to Salehi, and voiced his country's preparedness to further bolster cooperation with Tehran given Iran's important role in the region.
In December and in a meeting with Sri Lankan Minister of Industry and Commerce Rishad Bathiyutheen, Salehi had underlined Tehran's readiness to further develop relations and cooperation with Colombo in different fields.
"The Islamic Republic of Iran is fully ready for supporting and evermore expansion of comprehensive cooperation with Sri Lanka, particularly in political, economic, commercial, transit, and joint investments fields," Salehi said in Tehran at the time.
Bathiyutheen, for his part, appreciated the Iranian officials for their assistance in the process of his country's development, and expressed the hope that the level of commercial and economic cooperation with the Islamic Republic of Iran, particularly in energy field, would increase.