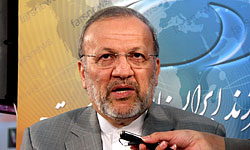 Iranian Foreign Minister Manouchehr Mottaki on Saturday extended Tehran's preparedness to expand economic and trade ties with Paraguay.
In a meeting with Paraguayan President Advisor Alejandro Hamed Franco here in Tehran, the Iranian foreign minister stressed Iran's private sector's capabilities on energy, gas and oil discovery, agriculture, industry, building power plant, dam and road as well as car manufacturing.
Mottaki further lambasted the faulty policies of world powers in Iraq and Afghanistan and said that such policies have led to extremism, instability and insecurity (in the region).
He added that boosting cooperation among nations is the best way to establish peace and safety.
During the meeting, Alejandro Hamed Franco announced that Paraguay is willing to mature economic, industrial and agricultural cooperation with Iran.
The Paraguayan official also outlined latest developments in Latin America.