Iran
Middle East
North America
Iranian FM: US Main Culprit behind Tensions
Iranian Foreign Minister Mohammad Javad Zarif underlined fruitful and friendly talks between the Iranian and Japanese officials during Prime Minister Abe Shinzo's visit to Tehran, describing Washington as the main source of tensions.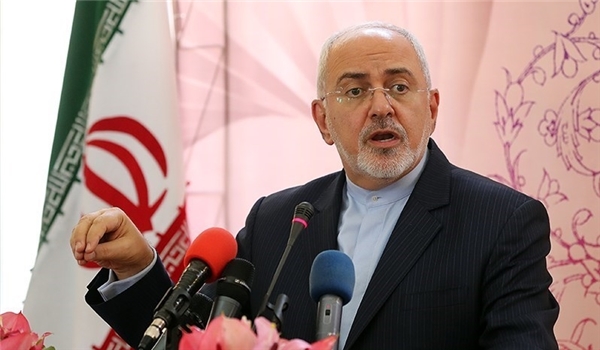 "Fruitful talks" were held with Japanese Foreign Minister Kono Taro followed by historic visit of Prime Minister Abe Shinzo, Zarif wrote on his twitter page on Thursday.
He added that President Hassan Rouhani and Supreme Leader of the Islamic Revolution Ayatollah Seyed Ali Khamenei also held extensive, friendly and useful talks with the Japanese prime minister.
"Cause of tension is clear: US violation of (the) JCPOA (the Joint Comprehensive Plan of Action) and imposition of economic war on Iranian people," Zarif said.
The Iranian foreign minister held a meeting with his Japanese counterpart in Tehran on Wednesday before Shinzo's visit.
During the meeting, Zarif said that his country was mulling oil-free financial policies to counter Washington's economic sanctions that constitute a case of terrorism.
"They have opened economic war on our nation and we are also facing the Americans' propaganda and attempts to spread hatred," Zarif said.
He referred to the US administration's economic terrorism against Iran, and said, "We will find ways for the welfare and comfort of our nation in these hard conditions, including revising the budget and financial policies to make them oil-free."
Taro, for his part, described Iran as an important regional country, and said, "We believe that less tensions in the region will serve the interests of everyone, otherwise all of us will be harmed."
He underlined Japan's preparedness to deescalate tensions in the region, alluding to earlier reports of his country's efforts to mediate between Iran and the US.