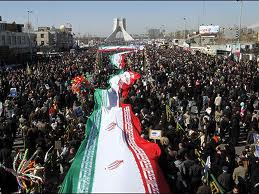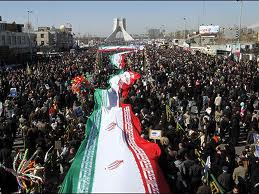 Iranians after thirty-four years of stability and strength, along with insight and knowledge against the conspiracies of hegemonic powers, took to the street and loudly repeated "Independence, Freedom and Islamic Republic" around the country, to protest their continuous prate and their inhumane, unilateral sanctions ever stronger.
The 22nd Bahman parade started simultaneously in Tehran and 930 other district, townships, cities and more than 4000 villages around Iran at 9:00 AM.
Simultaneously starting with the anniversary parade, a live size model of F-313 Ghaher and Kavoshgar Satellite were in display in Azadi Sq. Just days ago these two Iranian made fighter jet and Satellite were unveiled and launched successfully.
The displaying of these two achievements has created widespread interest among the people in Azadi Sq. The great revolution symphony will be playing in the north corner of Islamic Revolution Sq. and other parade routes. The concert is being played with efforts of Iranian Army air defense band.
Also in Revolution Sq. the three color flag of the Islamic Republic of Iran and various banners with the theme of "standing to the last" are being distributed among people.
The paratroopers from armed forces are parachute landing fall, and national anthem and other song are performed by Iran's military police band and the group of 22 thousand mantra singers which are among other activities planned for today.
Many revolutionary institutions, political and social groups and also civil groups are distributing tract, brochures, flags and portrait of Iran's nuclear martyrs (Mostafa Ahmadiroshan, Daryoush Rezainejad, Masoud Alimohamadi, Reza Shahriari, Majid Shahriari) among the people in the 34th parade anniversary of Islamic Revolution.
The youth showed more enthusiasm for the pictures of Iran's nuclear martyrs, which they put them on their faces.