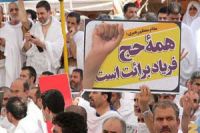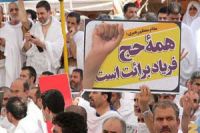 Iranian Hajj pilgrims on Monday underlined the need for Islamic solidarity and slammed efforts to sow discord among Muslims.
According to IRNA, in a statement issued at the end of the 'Disavowal of Disbelievers' ceremony in Arafat Desert, the pilgrims renewed allegiance to the Late Founder of the Islamic Republic Imam Khomeini (May his soul rest in peace) and the ideals of the Leader of the Islamic Revolution Ayatollah Seyyed Ali Khamenei.
They expressed their hatred towards atheists and pagans as well as the world hegemonic powers.
The pilgrims, in their statement, condemned sacrilege of Islamic sanctities as well as violence and terrorism.
The statement pointed to the ceremony as a pillar of an Ebrahamic–style Hajj pilgrimage and a chance to work out a collective alliance among Muslims to confront conspiracies of the international bullying powers and the Zionists.
The statement stressed that the Islamic Ummah will definitely fulfill its due role in the management of world affairs, building new civilizations and offering a superior pattern.
The statement further urged Muslim elites and scholars to maintain vigilance and help introduce the true image of Islam to the contemporary world and not let a bunch of ignorant and hired elements to tarnish the image of Islam.
Voicing support for the Islamic Awakening movement, it warned against derailing the public uprisings.
The statement further highlighted the Palestinians issue as the main concern of the Islamic Ummah and stressed the need for liberation of the Holy Qods and the occupied lands.