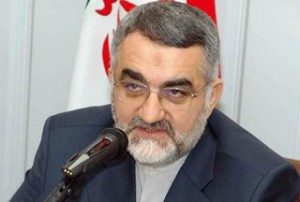 A senior Iranian lawmaker says the United States is held in contempt for its status as the only country to have used nuclear weapons in the past.
Chairman of Iran's parliamentary (Majlis) Committee on National Security and Foreign Policy Alaeddin Boroujerdi said Wednesday that Washington should apologize for its failure to abide by its obligations under international law and the nuclear Non-Proliferation Treaty (NPT).
He noted that Iran's sharp criticism against Washington's lack of commitment has further intensified "the global wave of revulsion and disdain" against US policies.
The Iranian lawmaker went on to criticize the new US nuclear policy, which openly declares Iran and North Korea as potential targets of its atomic weapons, emphasizing that such policies are cause for serious concern.
The "threat of a nuclear attack against Iran will undoubtedly raise global concern, not more than 60 years after the atomic bombing of Hiroshima in Japan," said Boroujerdi.
He was referring to the newly-crafted Nuclear Posture Review (NPR), under which the Obama administration promises not to use nuclear weapons against NPT member states that do not possess nuclear warheads, with the exception of Iran and North Korea.
The NPR was met with instant condemnation in Iran, which has been a signatory of the Nuclear Non-Proliferation Treaty (NPT) since 1968, and yet was excluded from the list of non-atomic states insured against US nukes.
The United States is the first country in the world to develop nuclear weapons, and is the only country to have used them in wartime.