Iran
Iranian 'MPs' votes to proposed ministers, people's votes'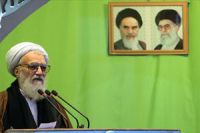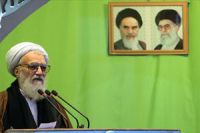 Interim Friday Prayers Leader of Tehran, Ayatollah Mohammad-Ali Movahhedi-Kermani said Parliament members' votes to President Hassan Rowhani were in fact the people's votes.
According to IRNA, addressing thousands of Tehrani worshipers at the University of Tehran, the ayatollah said "The people's representatives votes to the ministers were in fact the people's votes, and the issue of establishment of the government was thus well managed."
Ayatollah Movahhedi-Kermani added in his first Friday prayers sermon "There is freedom of speech for criticizing and the people's demands were uttered by the people's representatives at the Parliament."
He said that the problems with which the country will be faced in the country were discussed at the sessions allocated to surveying the competence of the president's proposed ministers.
Addressing the president and his approved cabinet ministers, Ayatollah Movahhedi-Kemani said, "Keeping in mind these problems, if you can solve them, then begin in the name of Allah, the Most Compassionate, the Most Merciful."
When voting for 18 proposed cabinet ministers for President Hassan Rohani ended minutes ago, Thursday night at Iran's Islamic Parliament ended it was cleared that 15 of them gained confidence votes while 3 did not.
The MPs voting for the president's proposed ministers took place after four days of intensive discussions over the competence of them.
After the voting it was made clear that three of the president's choices, namely the minister of education, minister of science, research and technology, and minister of sports and youth failed in gaining the required votes to become cabinet members.