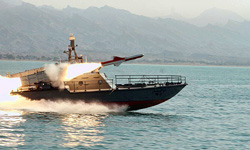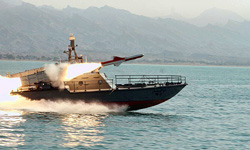 The Iranian Navy equipped its hovercrafts with a newly-manufactured anti-ship cruise missile, called Nour (Light), to boost the military power of its vessels in confronting potential threats by enemy vessels.
The Iranian Navy used the new missile hovercrafts in the third stage of a series of naval wargames currently underway in the Strait of Hormuz and northern Indian Ocean.
The hovercrafts' main mission in the third phase of the exercises was transferring and deploying marine commandoes and rapid reaction task forces in Iran's territorial waters.
The Iranian Army launched amphibious operations during the third phase of the six-staged naval maneuver, codenamed Velayat 89.
Earlier in December 2009, Iranian Army's Navy Commander Rear Admiral Habibollah Sayyari announced that his forces have optimized 4 BS7 and SRL6 hovercrafts.
Nour (Light) is a long-range anti-ship cruise missile manufactured by Iran and has already been installed on several military gears.
Early in March 2010, Iran's first home-made destroyer, 'Jamaran', successfully test-fired the powerful and intelligent 'Nour' missile.
The Nour (light) surface-to-surface missiles successfully hit their specified targets in the test.