Iran
Iranian Navy to Stage Drills in High Seas Late December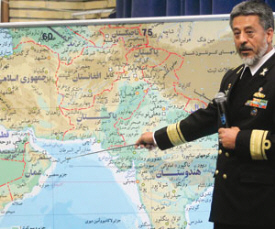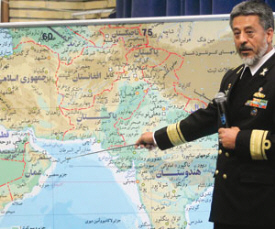 Iran's Navy Commander Rear Admiral Habibollah Sayyari announced that his forces are due to stage 'Velayat 93' naval drills late in December.
"In these exercises which will be staged late December, the latest weapons, tactics, surface, subsurface, missile and coast-to-sea missiles will be put into action," Sayyari told Fars News Agency on Saturday.
Noting that the drills will be staged in the North of the Indian Ocean to the 10-degree geographical latitude, he said this year's exercises will be more extensive.
The Iranian navy commander cautioned that at the time of the drills, all the foreign and trans-regional military forces will be alarmed to leave the region.
Sayyari also announced the Navy's plans to enter the Atlantic Ocean and reach more distant waters, and said the naval forces are always ready to defend Iran and its interests anywhere and against any threat.
Admiral Sayyari had informed in August that the country's Armed Forces were preparing to stage 'Velayat 93' joint drills in the second half of the current Iranian year (started on March 21).
"We will stage the Islamic Republic of Iran's highly massive joint exercises along the country's coasts in the Southeast to the 10 degree geographical latitude in the third or fourth quarter of this year," Sayyari told FNA.
"The ground, air and air defense forces will participate in Velayat 93 joint drills," he added.
Sayyari stressed that the exercises would have a message of peace and friendship to the neighboring countries, and said, "The Islamic Republic of Iran's Navy is capable of establishing security in the regional waters from every dimension."
In recent years, Iran's Navy has been increasing its presence in international waters to protect naval routes and provide security for trade vessels and tankers.
Velayat wargames are the annual exercises conducted by the Iranian Army's naval forces each year. Last year, the drills were conducted in the second half of the Iranian year (September, 2013-March, 2014) and were codenamed Velayat 2.