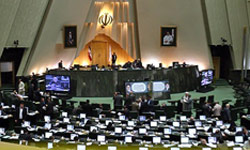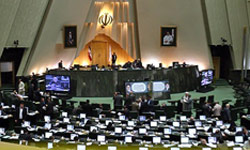 The Iranian parliament's National Security and Foreign Policy Commission cautioned Pakistani officials and religious leaders about enemies' efforts to stir rift between Shiite and Sunni communities in Pakistan.
In a statement on Saturday, the commission strongly condemned the recent terrorist attacks against Pakistani Shiite Muslims.
The statement said that the aim of such plots is to create rift among Shiite and Sunni Muslims and affect important decision of Pakistan government to start operation of building gas pipeline between Iran and Pakistan.
The commission asked Pakistani government to prevent repetition of such terrorist acts and severely punish perpetrators.
It also asked Pakistani religious scholars and leaders to condemn such criminal terrorist acts by issuing a fatwa (religious decree).
Also on Saturday, Secretary of the Commission Mohammad Hassan Asafari said that parliament's presiding board will definitely discuss the recent bomb attacks and killings of the Pakistani Shiite community in its Sunday session.
"We will also ask the foreign ministry to ask Pakistan's envoy for explanations (about the issue)," he said, and added, "And if this move proves to be ineffective, we will make use of our other authorities."
Meantime, thousands of Iranian seminary students and teachers staged a protest gathering in the grand mosque of the holy city of Qom on Saturday to strongly condemn the recent bomb attacks and killings of the Pakistani Shiite community.
Pakistani Shiites have come under increasing attacks in recent months. In a recent case, over 45 Shiites were killed in a terrorist attack on the Shiite Community in Karachi last Sunday.
The seminarians from Qom and other Iranian cities gathered in Qom's grand mosque today to show their protest and anger against the brutal killings of Shiite Muslims in neighboring Pakistan.
Prominent religious figures and personalities, including Grand Ayatollah Nasser Makarem Shirazi, also joined the protesters who chanted slogans against the brutal attacks on the Pakistani Shiite community.