Iran
Middle East
World News
Iranian Parliament Presents Bill to Collect Toll from Vessels Passing Strait of Hormuz
The Iranian parliament has devised a bill to be approved later which requires the government to collect toll from the cargo and military vessels which pass through the Strait of Hormuz, for protecting their security.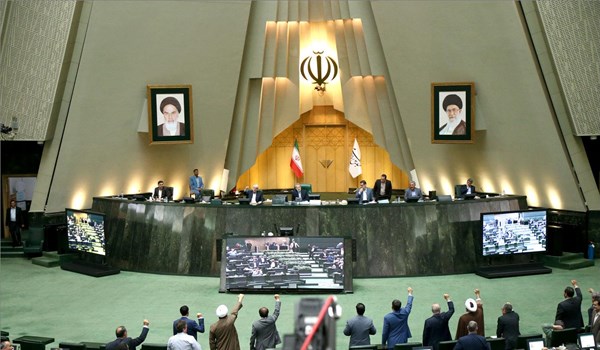 "A bill has been provided by the lawmakers which requires the government to receive expenses for providing security to vessels, either military or non-military, in the Strait of Hormuz from them," Hossein Ali Haji Deligani, a senior legislator, told FNA on Tuesday.
He added that the Iranian MPs have also devised other bills, including receiving compensation from the US for attacking an Iranian passenger plane in 1988 with 290 people on board, adopting necessary measures against the countries which host the US military men and facilities, adopting necessary measures against the companies which have accompanied the US sanctions against Iran, supporting the Iranian people and institutes which have been harmed by the US sanctions and forming a club of countries which have been sanctioned by the US.
While the Islamic Revolution Guard Corps (IRGC) has for years been the guarantor of security for the cargo ships and oil tankers in the Persian Gulf and the Strait of Hormuz, Washington claims that its naval forces have been deployed in the region to establish security.
US President Donald Trump said on Monday that other countries, including China and Japan, should protect their own oil tankers in the Middle East, suggesting that the American military may withdraw from securing the Strait of Hormuz for international commerce.
In a series of tweets, Trump questioned why the United States has provided such protection for years "for zero compensation."
"China gets 91% of its Oil from the Straight (sic), Japan 62%, and many other countries likewise. So why are we protecting the shipping lanes for other countries (many years) for zero compensation," Trump wrote on Twitter.
"All of these countries should be protecting their own ships on what has always been … a dangerous journey," Trump continued. "We don't even need to be there in that the U.S. has just become (by far) the largest producer of Energy anywhere in the world!"
Trump had earlier praised Iran for not shooting down a manned plane with 38 people on board when it decided to shoot down an unmanned American surveillance drone last Thursday.
Iran on Friday announced that its forces refrained from shooting down the manned plane that was accompanying the American spy drone which was shot down in the Persian Gulf after intruding into the Iranian airspace.