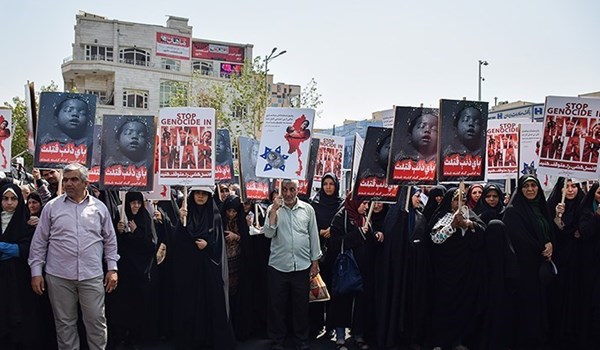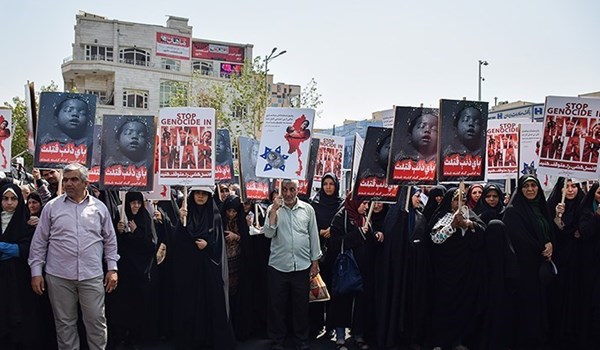 Hundreds of Iranian people and students, in a rally in front of the United Nations office in Tehran on Sunday, shouted protest at the crimes committed against the Rohingya Muslims in Myanmar, and urged the world states and international bodies to take action to stop the continued massacre of the oppressed minority.
The Iranian people and university students, carrying placards called on the UN to deal with the aggravating conditions of the Muslims in Myanmar.
During the peaceful protest rally in Tehran, demonstrators showed support for the Rohingya Muslims, and called on the UN and human rights organizations to break their silence and end the massacre, and probe into the conditions of the Muslims in Myanmar.
Myanmar's security forces have been attacking the Rohingya Muslims and torching their villages since October 2016 in a bid to push them out of the western state of Rakhine.
The attacks have intensified since August 25, following alleged armed attacks on police and military posts in Rakhine.
The Rohingya have been subject to communal violence by extremist Buddhists for years, forcing large groups of Muslims to take perilous journeys and seek refuge in Bangladesh and other neighboring countries.
Myanmar's de facto leader, Aung San Suu Kyi, has come under fire for failing to protect the country's Muslim minority from persecution.
She claimed on Wednesday that "a huge iceberg of misinformation" was spreading about violence in western Myanmar.
Iran has called on the international community not to remain silent on the ongoing genocide against Rohingya Muslims in Myanmar and take the needed measures to bring to a halt their catastrophic situation.
"The international community has no excuse to allow the genocide of Rohingya Muslims to continue in front of our eyes," Iranian Foreign Minister Mohammad Javad Zarif wrote on his Twitter account on Thursday.
"We must act before it is too late," the Iranian foreign minister said.