Iran
Iranian President Declares Plans to Build 30,000 Houses in Quake-Hit Areas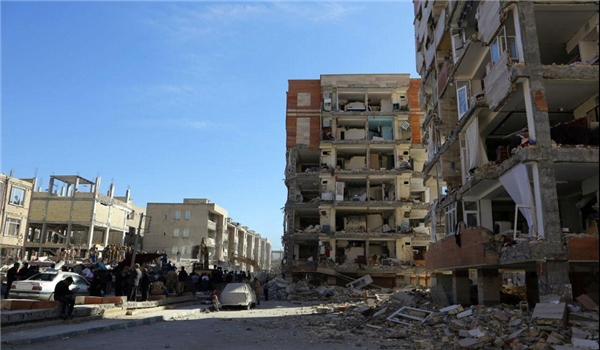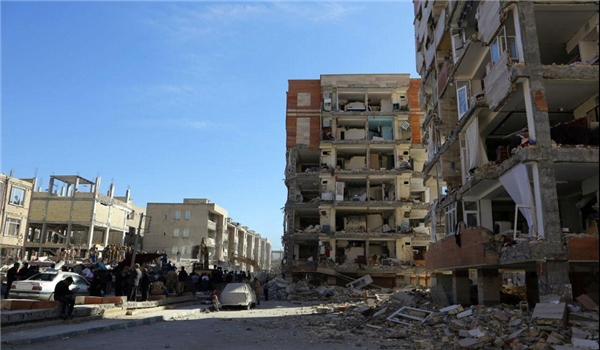 Iranian President Hassan Rouhani announced plans to construct tens of thousands of new houses in the quake-hit areas in Western Iran.
"11,000 rural houses and 4,500 urban residential units have been destroyed by the quake and we need to build 30,000 houses," Rouhani said while visiting the quake-stricken regions in Kermanshah province on Tuesday.
He added that non gratis aid will be allocated for the temporary settlement and accommodation of the people and loans will be paid to them for permanent housing.
A strong earthquake measuring 7.3 on the Richter scale rattled all cities and towns along Iran's Western border with Iraq on Sunday.
The number of people killed in the deadly quake in Western Iran on Sunday increased to 430 while officials have confirmed 7,718 injuries.
President Rouhani and a delegation tasked by Supreme Leader of the Islamic Revolution Ayatollah Seyed Ali Khamenei arrived in Kermanshah province on Tuesday to supervise and give necessary orders to accelerate and improve quality of the rescue and relief operations.
Elaborating on the latest situation of rescue operations in the quake-hit areas, Shahin Fathi, the head of Iran Red Crescent Society's Search and Rescue Unit, announced that 10,000 tents, 20,000 blankets and 185,000 canned food have been distributed among people but more aid is needed given the vastness of the regions stricken by the quake.
According to latest reports, 70% of the power grid and water pipelines of the quake-hit areas in Western Iran which had been cut off have come back into operation again.
Also in the late hours of Monday, an aid cargo of Iran's Red Crescent Society carried by a C-130 plane arrived at Kermanshah airport and the aircraft returned to Tehran, transferring a number of wounded people.
Also, a Boeing 747 plane, carrying over 40 tons of medicine and other aid arrived in Kermanshah on Monday.
Iranian Foreign Minister Mohammad Javad Zarif in a post on his twitter page appreciated the foreign states for sympathizing with Iran and their preparedness to send aid to the quake-hit areas.
"Heartbreaking images from the earthquake damage and loss of life in Kermanshah (and in Iraq). We are grateful for global expressions of sympathy and offers of assistance. For now, we can manage with our own resources. Many thanks for all offers and we will keep you posted," he wrote.
Iranian Vice-President and Head of Cultural Heritage, Handcrafts and Tourism Organization Ali Asqar Mounesan announced on Monday that a number of historical places have been damaged in the strong quake which hit Western Iran on Sunday night.
"5 historical sites in Kermanshah province and over 7 monuments in Ilam province have been damaged by the earthquake," Mounesan said on Monday.
Yet, he assured that the historical monuments have sustained 20% damage and can be mended and restored, and expressed relief that the artifacts being kept at the museums in both provinces have remained unharmed.
The Iranian government and military forces launched massive relief and rescue operations in the quake-stricken areas in Western Iran on Monday, pressing men and machine into service in the ravaged regions.
"4,100 tents, 10,000 blankets and 170,000 canned food have been distributed in the quake-hit areas," Fathi said.
He added that 530 rescue workers from 17 provinces are present in the quake-stricken regions.
Also, Commander of the Army for Hygiene Affairs General Jalil Rajabi announced that 3 field hospitals have been mounted in Western Iran to help the wounded people, adding that 30 major surgical operations have been conducted in one of them so far.
Meantime, Commander of the Islamic Revolution Guards Corps (IRGC) Major General Ali Jafari whose forces along with their comrades in the Army are helping the rescue operations announced that removing the debris will end on Monday night.
Also, Energy Minister Reza Ardekanian announced that the power grids in the villages of Kermanshah province which were cut off in the earthquake will be reconnected at 19:00 local time, adding that over 200,000 bottles of drinking water are being distributed among the quake-hit people.
Meantime, the Civil Aviation Organization of the Islamic Republic of Iran declared that it has increased the number of flights to the two quake-stricken provinces of Kermanshah and Ilam from 8 to 10 to transfer the wounded people to other provinces, specially Tehran.
The strong quake also damaged 1,528 urban and rural houses in the adjacent province of Kurdistan in Western Iran, as well as 20 schools.
The Seismological center of the Geophysics Institute of Tehran University registered the quake that was felt across Iran, Iraq, Kuwait, Syria, Turkey and Lebanon at 21:48 hours local time (18:18 GMT).
The epicenter of the quake that was felt deep in Iran was located in the depth of 11km in an area 45.9 degrees in longitude and 34.84 degrees in latitude, South of the town of Azgaleh in Iran's Western province of Kermanshah.
The quake has so far been followed by over 216 aftershocks ranging from 2 to 5 in magnitude.
The powerful jolt made people in the capital, Tehran, and a number of other cities including Tabriz and Isfahan pour into the streets in panic.
The quake has destroyed a number of buildings in rural areas and caused cracks in the walls of the buildings in a number of villages and towns some 122km to the West of Kermanshah city. Reports said a sum of 430 people have been killed and more than 7,460 others have been injured in Iran's Western city of Qasr-e Shirin, Azgaleh and number of other towns and villages, while reports from Iraq mentioned 7 deaths, around 500 injuries and destruction of buildings in 8 villages.
Phone, Internet and powerlines are still down in a few nearby towns and villages.
Iran is criss-crossed with fault lines and is regularly hit by earthquakes, experiencing at least one slight tremor every day on average.
Iran sits astride several major faults in the earth's crust, and is prone to frequent earthquakes, many of which have been devastating.
The worst in recent times hit Bam in southeastern Kerman province in December 2003, killing 31,000 people – about a quarter of its population – and destroying the city's ancient mud-built citadel.
The deadliest quake in the country was in June 1990 and measured 7.7 on the Richter scale. About 37,000 people were killed and more than 100,000 injured in the northwestern provinces of Gilan and Zanjan. It devastated 27 towns and about 1,870 villages.
Tehran alone sits on two major fault lines, and the capital's 14 million residents fear a major quake.