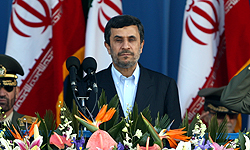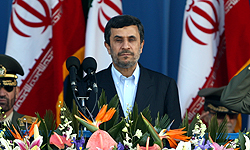 Iranian President Mahmoud Ahmadinejad called on all Iranians and the world Muslims to show their support for the Palestinians by participating in the International Quds Day rallies this Friday.
Ahmadinejad said on Wednesday that the International Quds Day is the day for the nations' public movement to liberate the entire human society from all types of modern times' slavery.
"Keeping in mind the occurred developments in the world and the oppressor powers' great enthusiasm for saving the Zionists, it is a dire necessity that this year's Quds Day rallies would be held more enthusiastically, at a much broader scale, and with a much wiser attitude than the years before," Ahmadinejad said in Mecca, Saudi Arabia.
"The International Quds Day is the day for the human beings' declaring that they are alive and that they wish to live up to their ideals," he added.
The last Friday of the holy month of Ramadan is dubbed as 'the international Quds Day' during which worldwide Muslims stage demonstrations to voice their strong protest and outrage at the occupying regime of Israel.
The International Quds Day was started by the late Founder of the Islamic Republic, Imam Khomeini, as a way of expressing solidarity with the Palestinians and underscoring importance of Quds to Muslims.