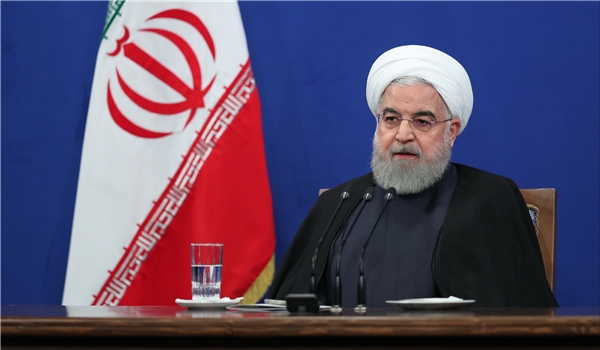 Iranian President Hassan Rouhani underlined that given the US stubbornness in opposition to the removal of the sanctions against Iran, his country has no way but resistance against Washington.
"We are in sanctions conditions and it is not our fault and these conditions have been created with the provocation of the Zionists and the reactionary regimes in the region," Rouhani said in Tehran on Wednesday.
"In such conditions, we do not have any way but resistance against those that have imposed the sanctions. Meantime, we have not closed the doors to talks," he added.
President Rouhani stressed that once the US removes the "terrorist unfair" sanctions, the two countries' high-ranking officials could meet within the framework of the Group 5+1.
He said when he was in New York for a UN General Assembly meeting, he had told the European interlocutors that he would meet the US president immediately after and only when Trump removed the sanctions on Iran.
In relevant remarks earlier this week, Rouhani stressed failure of the US plots to make the people in Iran bow to the pressures and sanctions, saying that despite its tough gestures, Washington was sending private messages to Tehran to request talks.
"These unprecedented sanctions, that as they said were the harshest economic pressure, were exerted, as they imagined, with the aim of making us bow by the end of this year, and not only the US which is a criminal and terrorist country but also other countries thought that this will happen to Iran," President Rouhani said in Tehran.
"Despite all these heavy economic pressures and unfair sanctions, the Iranian people protected their honor, went past the imposed hard conditions through resistance and bearing the difficulties, won and showed by resistance that they will not allow the enemy to attain its goal," he added.
Meantime, President Rouhani revealed that the Americans are sending private messages to Iran for talks contrary to their public and open statements, adding that the Europeans who are mediators are also aware of this fact.
Also, last month, Rouhani underlined that the enemies had hatched plots to make the people in Iran to bow to their pressures but to no avail.
President Rouhani referred to the enemies' conspiracies against the Iranians, stressing that Iranian people will continue their way and will not bow to pressures.