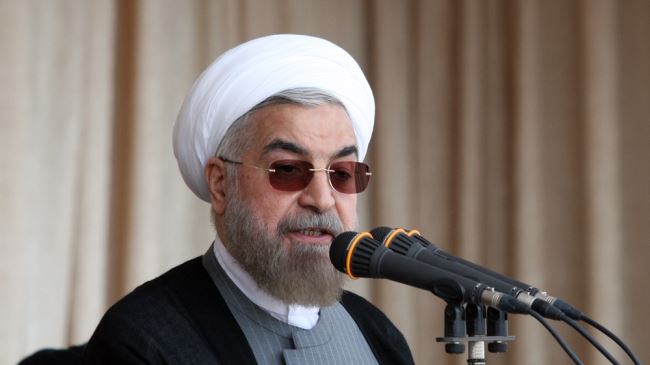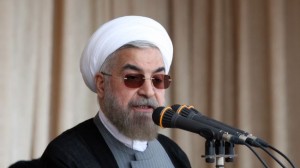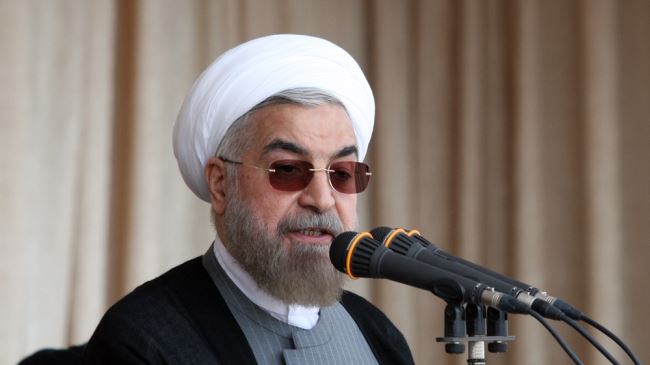 Iran's President Hassan Rouhani has lashed out at Israel after the Zionist regime resumed pounding the besieged Gaza Strip, saying Tel Aviv is a murderous regime.
The Israeli regime renewed its merciless onslaught on the besieged Gaza Strip on Tuesday ahead of the expiration of a recently-agreed truce at 2100 GMT.
Israeli warplanes and tanks have been pounding the blockaded sliver since early July, inflicting heavy loss of life on the coastal enclave. At least 2,030 people, mostly civilians, have lost their lives and some 10,200 have been injured in the Israeli war on Gaza.
Rouhani also warned against the existing instability across the Middle East, including Takfiri ISIL's crimes in Iraq, and noted, "The Syrian people have lost their homes and the murderers [have now] targeted the oppressed Palestinians and Gazans with their bombs and missile fire."
"Today in Iraq, the oppressed people are put to the sword of murderers who, unfortunately, claim deviously to [be promoting] Islam, but in practice they are mercenaries of the Zionists and have made millions of Iraqis, including Kurds, Sunnis and Shias homeless," said Rouhani addressing the Wednesday gathering of people in the northwestern Iranian city of Ardebil.
"Today the people of Iraq, Syria and Palestine are turning their eyes to the brave Iranian nation for assistance. Therefore, we should maintain our unity and solidarity," Rouhani pointed out.
Elsewhere in his remarks, Rouhani pointed to the partial suspension of the US-led sanctions against Iran after Tehran signed an interim nuclear deal with the Sextet of world powers in November 2013 and noted, "More steps should be taken for the lifting of the sanctions."
Rouhani reaffirmed Iran's determination to maintain friendly interaction with the global community, but noted that the Iranian nation will stand firmly against any government seeking to impinge on its rights.
The Iranian chief executive also pledged that his administration will both preserve the nation's nuclear rights and bring back welfare to the lives of the Iranian people.
In July, Iran and the Sextet – the United States, France, Britain, Russia, China and Germany – agreed on the extension of their discussions until November 24 in an effort to achieve a permanent nuclear deal.
The two sides are expected to discuss ways of reaching a final agreement over Tehran's nuclear energy program. Iran's right to enrich uranium is among the bones of contention between the two sides.