Africa
Iranian President Warns of NATO, Enemies' Plots to Dominate Muslim States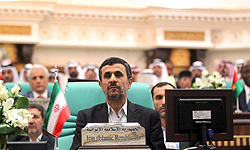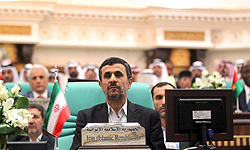 Iranian President Mahmoud Ahmadinejad in a meeting with his Tunisian counterpart Muhammad Monsef al-Marzouki in Mecca, Saudi Arabia, warned of the plots hatched by the enemies and the NATO to dominate the Muslim nations.
"Today the enemies of the regional nations and the NATO forces are ready to dominate all Islamic states," Ahmadinejad said during the meeting on the sidelines of an emergency meeting of the Organization of Islamic Cooperation (OIC) in Mecca on Tuesday night.
He said enemies are attempting hard to stir sectarian strife between the Shiite and Sunni Muslims, and underlined that the Iranian nation supports the Tunisian, Egyptian, Yemeni and Palestinian Muslims without considering their religious faith (Shiite or Sunni).
His warnings alluded to the recent conflicts in the region, specially in Syria, where different arrogant powers and their regional allies and proxies are seeking hard to topple the country's Muslim state. The Arab country has been experiencing unrest since March 2011 with organized attacks by well-armed gangs against Syrian police forces and border guards being reported across the country.
In October 2011, calm was eventually restored in the Arab state after President Assad started a reform initiative in the country, but Zionist Slaughterer Israel, the US, Turkey their and Arab allies are seeking hard to bring the country into chaos through any possible means. Tel Aviv, Washington and some Arab capitals have been staging various plots in the hope of increasing unrests in Syria.