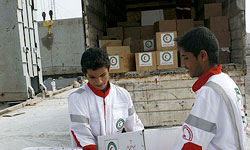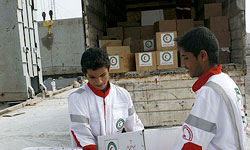 The Iranian Red Crescent Society on Wednesday announced plans to send humanitarian aids to a number of African and Asian countries, including Iran's northern neighbors.
"The Iranian Red Crescent Society has made plans and consultations to send aid cargos to a number of Asian and African countries in line with its benevolent and humanitarian goals in order that these aids reach the people in need in these countries as soon as possible," Director-General of Iran's Red Crescent Society for International Affairs Abdorraouf Adibzadeh told FNA.
Noting that some of the autonomous regions and states in northern Iran need the country's aids and assistance, Adibzadeh said such countries are in need of goods and basic commodities such as blanket, medicine and food stuff.
He also stressed that Iran's Red Crescent Society is ready to dispatch its humanitarian aid cargos to African countries as before.
On Iran's humanitarian aids for the Palestinian people in Gaza, Adibzadeh reiterated that a cargo of medicine and food stuff will be sent to Gaza but in accordance with certain rules.
Earlier this month, Head of Iran's Red Crescent Society Abolhassan Faqih had voiced the society's readiness to provide the Palestinian Red Crescent with logistical supports.
In a message to the president of Palestine's Red Crescent Society, Younis al-Khatib, the Iranian official expressed deep regret over the Israeli raid on the international convoy carrying humanitarian aids to the people of Gaza.
"I express my sympathy for the Palestinian people and Red Crescent Society and announce preparedness of the Iranian Red Crescent Society to provide any kind of help and support for the activities of the Palestinian RC," Faqih said in his letter at the time.
His remarks alluded to Israeli commandos' raid on an aid convoy sailing to the Gaza Strip on May 31, killing 20 human rights activists and injuring 80 more.
More than 100 Israeli commandos were involved in the raid on the six-ship Freedom Flotilla in international waters.