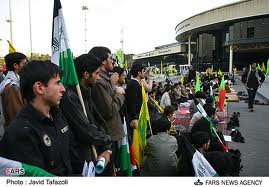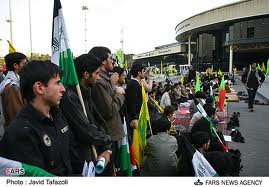 Iranian students on Sunday celebrated the takeover of the Israeli embassy in Cairo by the Egyptian people and hoisted a 50-meter-long national flag of Egypt over the portals of the Tehran University.
Students from different universities gathered in front of the Tehran University after the noon prayers and celebrated the event, appreciating the Egyptian youths for their courageous act in seizing the Zionist regime's embassy.
They also entertained the passers-by with cookies, chocolates and fruit juice as part of the festivities.
Egyptian demonstrators forced the Israeli ambassador to Cairo to leave the country after they stormed the embassy on Friday and destroyed a part of a barricade wall around the building.
The Israeli ambassador to Egypt escaped Cairo, a few hours after demonstrators stormed the Israeli embassy.
Yitzhak Levanon boarded a plane before dawn on Saturday morning.
The intimidate Israeli Defense Minister, Ehud Barak, called US Defense Secretary Leon Panetta in the early hours of Saturday morning Tel Aviv time and urged Washington to help protect the Israeli embassy in Cairo.
Following the move in Cairo, Israel's embassies in Turkey and Jordan have reportedly come under a similar threat of an imminent fall.
Speaking to FNA on Saturday, Ahmad Saeed Tareq, a young Egyptian revolutionary, said Egyptians' move served as a "prelude to the fall of the embassies of the usurper and illegitimate Zionist regime in all those Muslim states which still have political and diplomatic relations with the Israeli regime".
He further stated that a similar move would soon happen in Turkey and Jordan.