Iran
Middle East
Technology
Iranian Scientists Develop Assistant Robot for Beating Heart Surgery
Iranian researchers in Amir Kabir University of Technology manufactured a robot which can assist the medical team in the surgery of beating heart in patients with cardiovascular diseases.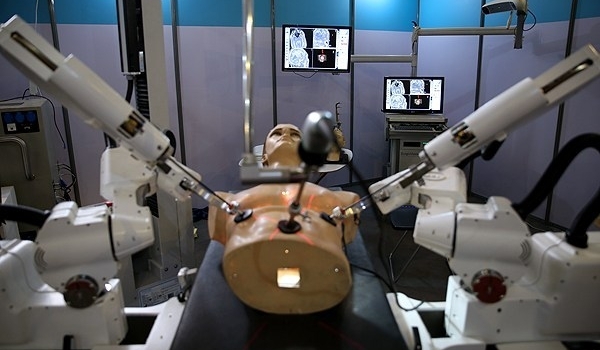 "The robot can concurrently move with the heart beats to help the surgeon in precise surgery and pave the ground for her/him to see the images more easily," Heidar Ali Talebi, head of Amir Kabir Unversity's Electricity Engineering, said on Wednesday.
Also, Iman Sharifi, one of the researchers, said that 6 MS students participated in the plan, explaining that the surgeon can guide the robot remotely by using a joystick so that a precise surgery would be accomplished.
Mehdi Tavakkoli, an Iranian scientist from Alberta University, also assisted his colleagues at Amir Kabir University in completion of the plan.
Iran had also in 2015 unveiled a surgeon robot named 'Sina' capable of carrying out surgical operations on patients from remote distances.
"The robot has an advanced performance in the field of remote surgery and corresponds to the American Da Vinci robot," the manager of the project to build Sina robot, Farzam Farahmand, said.
"By this robot, the surgeon makes different moves using a monitor and two surgery arms on that part of the body which should go under surgery and he/she is connected to the patient with a number of cameras," he added.
Noting that Sina remote surgeon robot had been designed and built by Sharif University of Technology and Tehran's Medical Sciences University, Farahmand said that the robot was mostly used for abdominal surgeries and had been tested on sheep.
Iran has in the last few years taken a wide stride in area of science and technology, including robotic sciences.