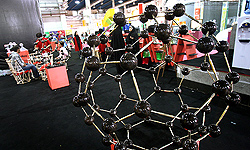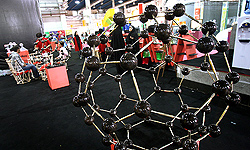 Researchers at Iran's Zanjan University reported success in synthesizing silica nanoparticles from rice husk and using it as an effective nanocatalyst in chemical reactions.
For this research project, nanosilica particles were prepared through a cost-effective and simple method and subsequently were exploited as a nanocatalyst in the synthesis of isocoumarin," Ali Ramezani, professor at Zanjan University, explained.
"The proposed chemical process involves moderate and non-hazardous conditions and features like short reaction time, ease of production, high efficiency and green engineering," he added.
Ramezani briefly spoke of the research procedure, and said, "Nanosilica particles were initially obtained via thermal pyrolysis of rice husk. Afterwards, the nanoparticles were employed to act as catalytic agents for the synthesis of isocoumarin derivatives from 2-formylbenzoic acid, isocyanides, and second order amines (dibenzylamine and isopropyl amine) under solvent-free conditions."
"For the sake of comparison, a similar reaction was carried out with use of conventional (bulk) silica whose results proved the relatively better performance of nano silica."
"Various methods for the synthesis of nano silica has been developed so far, however, many of which entail hazardous, costly and harsh processes. In this regard, we did our best to tame such a wild process and finally came up with thermal pyrolysis of rice husk which is a simple, safe and economic process," he reiterated.
Besides the primary goals of this research, an efficient single-step solvent-free synthesis technique for the production of isocoumarin derivatives has been introduced. According to the researchers, the mentioned reaction, occurring in solid phase, reduces pollutions and operational costs and also enjoys a rather simple mechanism.