Europe
Iran
Middle East
Qasem Suleimani
Iranian Speaker: Europe Indebted to General Soleimani for Anti-ISIL Efforts
Iranian Parliament Speaker Mohammad Baqer Qalibaf said that the ISIL terrorist group's failure to infiltrate the European states was the result of the efforts made by martyred Commander of the Islamic Revolution Guards Corps (IRGC) Quds Force Lieutenant General Qassem Soleimani.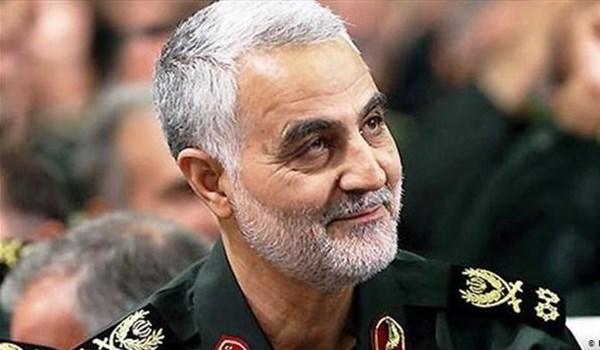 "The ISIL would have reached the heart of Europe had it not been for martyr Soleimani," Qalibaf said in a meeting with Swiss Ambassador to Tehran Markus Leitner on Monday.
Elsewhere, he referred to Washington's cruel sanctions against Tehran, and said, "The US thought that it can create internal problems in Iran through these pressures but it is wishful thinking."
"Today, Trump has understood that maximum pressures have failed to produce any result against Iran and the country's economic situation will be much better in the next few months and next year," Qalibaf said.
Leitner, for his part, underlined Bern's eagerness to expand all-out relations with Tehran, and said, "We are interested in developing parliamentary cooperation and ties between Iran and Switzerland."
In relevant remarks in January, Iranian President Hassan Rouhani underlined that the tranquility and security felt in the European cities is the result of General Soleimani's efforts against the terrorist groups.
"If it were not for Martyr Lieutenant General Qasem Soleimani's efforts, you wouldn't enjoy security in London today," President Rouhani said in a phone conversation with British Prime Minister Borris Johnson.
Lieutenant General Soleimani was assassinated in a US drone strike on Baghdad International Airport in Iraq on January 3.
The airstrike also martyred Deputy Commander of Iraq's Popular Mobilization Forces (PMF) Abu Mahdi al-Muhandis. The two were martyred in an American airstrike that targeted their vehicle on the road to the airport.
Five Iranian and five Iraqi military men were martyred by the missiles fired by the US drone at Baghdad International Airport.
On January 8, the IRGC Aerospace Force started heavy ballistic missile attacks on US Ein Al-Assad airbase in Southwestern Iraq near the border with Syria and a US operated airbase in Erbil in retaliation for the US assassination of ant General Qassem Soleimani.
Ein Al-Assad is an airbase with a 4km runway at 188m altitude from sea levels, which is the main and the largest US airbase in Iraq. Early reports said the radar systems and missile defense shields in Ein Al-Assad failed to operate and intercept the Iranian missiles. Unofficial reports said the US army's central radar systems at Ein Al-Assad had been jammed by electronic warfare.
The second IRGC reprisal attack targeted a US military base near Erbil airport in Iraqi Kurdistan Region in the second leg of "Martyr Soleimani" reprisal operation.
Iraq said the attacks had not taken any toll from its army men stationed at these two bases. The US army had blocked entrance into Ein Al-Assad to everyone, including the Iraqi army.
It was the first direct attack on the US army ever since world war two.
The IRGC officials said none of the missiles had been intercepted.
Meantime, Iran announced in late June that it had issued arrest warrants for 36 officials of the US and other countries who have been involved in the assassination of the martyred General Soleimani.
"36 individuals who have been involved or ordered the assassination of Hajj Qassem, including the political and military officials of the US and other governments, have been identified and arrest warrants have been issued for them by the judiciary officials and red alerts have also been issued for them via the Interpol," Prosecutor-General of Tehran Ali Alqasi Mehr said.
He said that the prosecuted individuals are accused of murder and terrorist action, adding that US President Donald Trump stands at the top of the list and will be prosecuted as soon as he stands down presidency after his term ends.