Europe
Human Rights
Iran
World News
Iranian Students Stage Protest in Front of French Embassy to Support Yellow Vests
Iranian students gathered in front of the French embassy in Tehran on Saturday to voice support for the yellow vest movement, one year after public protests started in Paris and some other cities in the European country.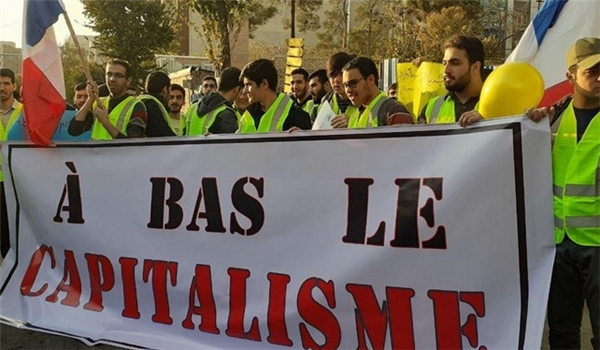 Some university students wore yellow vests to identify themselves with protesters in their move again the French government and police violence against the protestors in the European country.
They also carried placards reading 'One Year of Resistance against Capitalism', and chanted 'death to the US', 'death to Israel' and 'Macron commits crime, Trump supports'.
The Iranian students also sliced a cake prepared on the occasion of the first anniversary of the yellow vest movement in France.
At the end of the gathering, the students read a statement to denounce capitalism, blasting its influence on the media and policy-making bodies.
"Capitalism heavily suppresses the yellow vests and any group which can stand against it, making people review capitalist values and principles," the statement said.
"We, the Iranian students, state outloud that we accompany any voice against this cruel system, which persuades bullying of the rich over the poor, either in countries or on the international scene and believe that enmity towards the capitalist system can be the common language among us who suffer this anti-justice system," it added.
Participants in the year-old Yellow Vest protest movement have long accused authorities of using heavy-handed tactics that have left dozens of people seriously injured.
In particular the use of large rubber bullets from so-called "defensive ball launchers," as well as sting-ball grenades, have been particularly controversial.
In May, the interior ministry said 2,448 demonstrators had been hurt in the rallies nationwide, along with 1,797 members of the security forces.