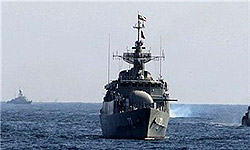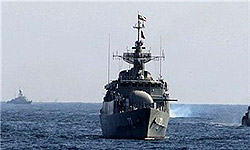 The Iranian Navy's 23rd fleet of warships, including home-made Jamaran destroyer, have entered Port Sudan, the Iranian navy announced on Saturday.
The Navy's public relations office said the fleet, comprised of Jamaran destroyer and the logistical chopper carrier vessel, Bushehr, docked in Port Sudan after passing through the strategic Strait of Bab el-Mandeb and accomplishing its mission in the Red Sea.
The statement added that the fleet's commanders have already had a meeting with senior Sudanese navy commanders.
During the meeting also attended by Tehran's ambassador to Khartoum, Sudan's top Navy Commander Abdallah Matari urged further expansion of Iran-Sudan military cooperation, and announced that he will pay a visit to Iran in the near future.
The Iranian ambassador to Khartoum thanked Sudan's warm welcome to the Iranian fleet of warships, and described presence of the Islamic Republic's Navy vessels in Sudan as "an honor" for Iran.
Late in October, the Iranian Navy's 22nd fleet of warship had docked in Port Sudan.
The Iranian Navy's fleet of warships was comprised of Khark warship and Shahid Naqdi Destroyer. Khark has 250 crewmembers and can carry three helicopters.
The Iranian Navy said at the time that the visit was aimed at conveying the message of peace and friendship to the neighboring countries and ensuring security for transportation and shipping against sea piracy.
The Iranian Navy has been conducting anti-piracy patrols in the Gulf of Aden since November 2008, when Somali raiders hijacked the Iranian-chartered cargo ship, MV Delight, off the coast of Yemen.
According to UN Security Council resolutions, different countries can send their warships to the Gulf of Aden and coastal waters of Somalia against the pirates and even with prior notice to Somali government enter the territorial waters of that country in pursuit of Somali sea pirates.
The Gulf of Aden – which links the Indian Ocean with the Suez Canal and the Mediterranean Sea – is an important energy corridor, particularly because Persian Gulf oil is shipped to the West through the Suez Canal.