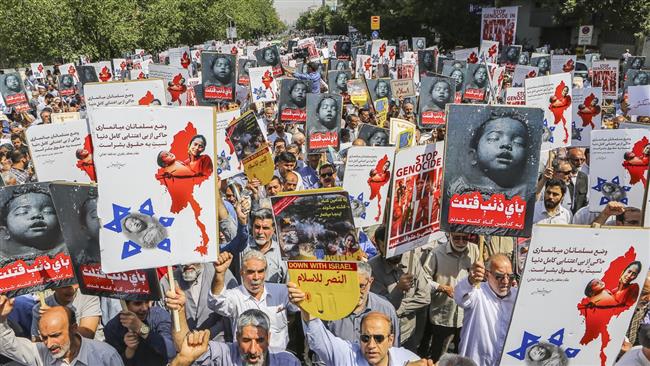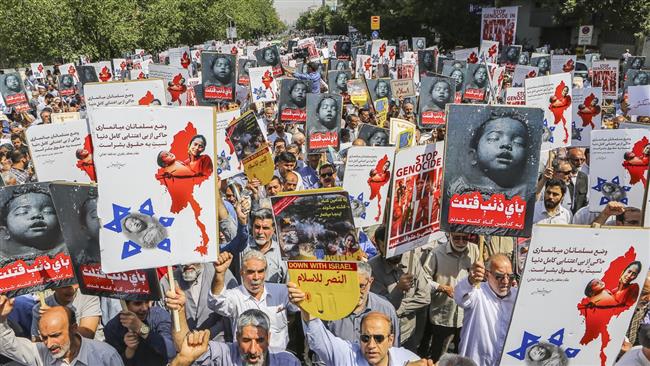 Iranian worshipers have staged rallies in Tehran and many other cities to express their outrage at the ongoing brutal violence against the Rohingya Muslims in Myanmar.
During the rally, held after the Friday prayers, the protesters chanted slogans such as "Death to Israel" and "Death to the US" and "Death to Zionists" and "Allahu Akbar" – God is the greatest in Arabic.
In a statement, the demonstrators condemned the global silence on the ongoing crimes against Rohingya in Myanmar and called on the international community to take action to restore the rights of the oppressed Muslims.
They also asked for the dispatch of humanitarian aid and a fact-finding committee to the region to investigate the atrocities against Muslims.
Pro-Rohingya marches were also held in several other countries including Pakistan, Japan, Indonesia, Bangladesh, Malaysia and Philippines.
Myanmar's security forces have been attacking the Rohingya Muslims and torching their villages since October 2016 in a bid to push them out of the western state of Rakhine.
The attacks have intensified since August 25, following alleged armed attacks on police and military posts in Rakhine.
Prior to that, the Muslims were frequent targets of Buddhist mobs. Tens of thousands of Rohingya were driven from their homes in another wave of violence in 2012.
The UN refugee agency, UNHCR, confirmed Thursday that some 164,000 Rohingya Muslims had fled Myanmar's Rakhine to seek refuge in camps in Bangladesh since the harsh crackdown against them.
The UNHCR spokeswoman, Vivian Tan, said the figure could go up further as thousands were still crossing the border.
In a letter to UN Secretary General António Guterres published on Friday, Iranian Foreign Minister Mohammad Javad Zarif warned about the continuation of the ongoing crackdown on Rohingya Muslims in Myanmar, urging the international community and the United Nations in particular to take swift action to end the crisis.
"It is expected that the United Nations act swiftly and undertake all necessary measures towards addressing international concerns about the deteriorating situation in Myanmar," Zarif said.
He added that Myanmar's government must address the long-standing grievances and the miserable situation of its Muslim community, observe their rights in an effective manner and recognize them as equal citizens while protecting them in the face of violence and discrimination.