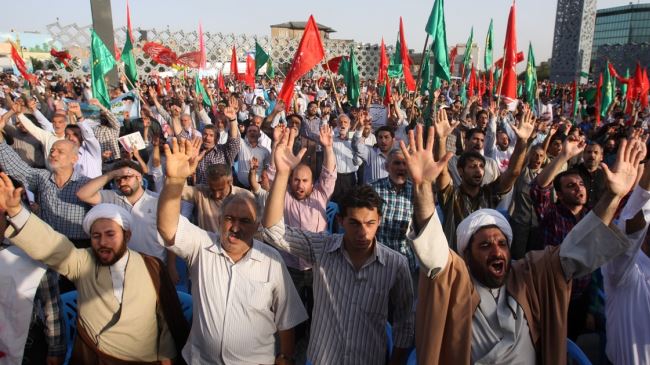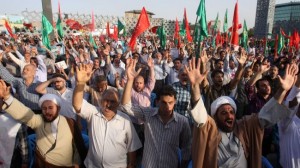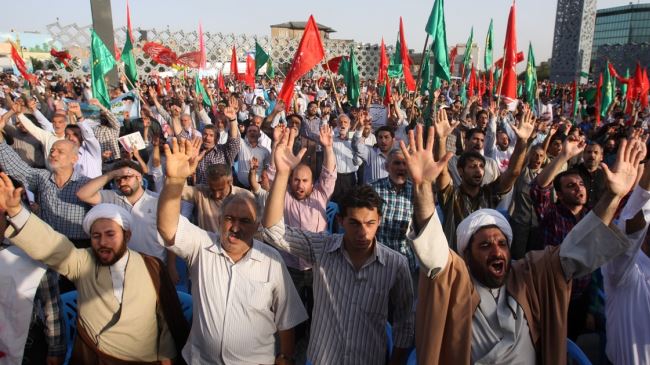 Hundreds of Iranians have held a rally to express their support for the oppressed Iraqi people and voice their anger against the ongoing acts of violence and extremism in the country, Press TV reports.
The Iranians staged a rally in Tehran on Tuesday to condemn terrorist measures by the so-called Islamic State of Iraq and the Levant (ISIL) with many of them even signing up to go to Iraq in order to defend the holy sites in the county if necessary.
"We are here to say they (ISIL militants) cannot do anything when there are youth like us here," a young volunteer said.
Millions of people across the world make a pilgrimage to the holy shrine of the third Shia Imam, Imam Hussein (PBUH), in the Iraqi city of Karbala every year and Iranians make up a big share.
"I'm here to say that I'll defend the shrine of Imam Hussein in Karbala," another volunteer said.
Iran's President Hassan Rouhani said on June 18 that the Muslim Iraqi nation will push back terrorists and their supporters, stressing that the Islamic Republic will spare no effort to protect holy shrines in Iraq.
He added that all superpowers, mercenaries and terrorists should know that the great Iranian nation would make every effort to safeguard holy shrines in the Iraqi cities of Karbala, Najaf, Kadhimiya and Samarra.
Since June 10, Iraq has been witnessing a fresh wave of violence fueled by the ISIL Takfiri terrorists. The militants have overrun most of one province and parts of three others north of the Iraqi capital, Baghdad.
Addressing the gathering in Tehran, a member of Iran's Strategic Council on Foreign Relations Saeed Jalili pointed to plots by the US and Israeli regime in Iraq and Syria and said unity and solidarity in the Muslim world will render terrorists' plots ineffective.