Iran
Iranians Flock to Polling Stations for Presidential Election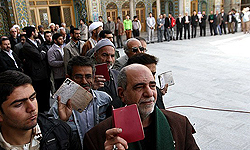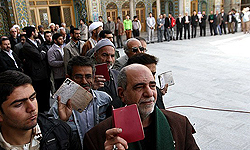 Iranian voters queued up at the polling stations in a hotly-contested election on Friday morning to choose their next president to steer the country for the next four years.
Voting is also underway for city and village councils elections concurrent with the presidential polls.
FNA reports said voters are standing in long queues to cast their ballots in favor of their candidates.
Authorities appeared overwhelmed by the large number of people who began lining up even before polling stations opened.
Concurrent polling started for both elections across the country at 08:00 hours Tehran's time (0330 GMT) Friday.
Voting will last 10 hours and ends at 6 pm, but it could be extended if necessary. Counting of the ballots will start at 24:00 and final results will be announced in 24 hours after the elections.
Presidential election campaign kicked off in Iran on May 22 after the Guardian Council released the list of 8 qualified candidates, although 6 have remained in the race now. Electioneering ended at 8:00 yesterday.
The qualified candidates represent a wide range of political streams from Principlists to reformers.
There are now 6 candidates left in the race after two of them quitted. They include Tehran Mayor Mohammad Baqer Qalibaf, former Iranian Foreign Minister and Supreme Leader's top advisor for international affairs Ali Akbar Velayati, Supreme National Security Council (SNSC) Secretary and chief nuclear negotiator Saeed Jalili, former SNSC Secretary and chief nuclear negotiator Hassan Rouhani, former Oil and Telecommunication Minister Seyed Mohammad Qarazi, and former Commander of the Islamic Revolution Guards Corps (IRGC) and Secretary of the Expediency Council Mohsen Rezayee.
According to presidential election laws, all Iranian nationals above 18 years of age are eligible to vote.
Iranian voters will go to over 66,000 polling stations inside and outside the country to elect their next president today.
Interior Minister Mostafa Mohammad Najjar announced in May that his ministry is fully prepared to hold the election and has set up 1040 executive committees for the elections throughout the country.
"The preparation of over 66,000 polling stations inside the country and 285 polling stations abroad are underway to collect people's vote in a massive and energetic turnout (that they will have) on Khordad 24 (June 14)," Najjar stated at the time.
Observers predict a high turnout similar to previous elections in the Islamic Republic in the post-revolution era.
The next president of the country will be elected if one of the four vote-getters manages to secure 50 percent plus one of the votes, otherwise, a runoff between the two top contenders will determine the next president.
FNA will inform you of early election results on Saturday.