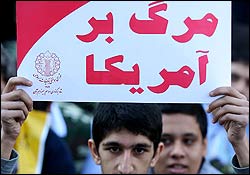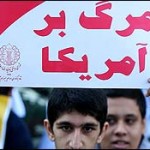 Hundreds of thousands of Iranians held rallies on Wednesday across the country to mark the 30th anniversary of the seizure of the U.S. embassy in Tehran by Iranian students during the 1979 Islamic Revolution.
In Tehran, the demonstrators gathered outside the former U.S. embassy compound in the center of the city, carrying placards expressing their animosity toward the arrogant powers and shouting anti-U.S. and anti-Israeli slogans.
Supporters of defeated presidential candidate Mir-Hossein Mousavi also took to the streets on Wednesday, chanting slogans like "The Russian embassy, the main home of espionage" and "We are all together" and confronted the police at some points, Khabar Online reported.
Majlis Cultural Committee Chairman Gholam-Ali Haddad-Adel said here on Wednesday that the students seized the U.S. embassy due to the great suffering that the arrogance and colonialism of the United States had inflicted upon the Iranian nation.
"About nine months after the victory of the revolution… university students entered the U.S. embassy, which was later dubbed the U.S. Den of Spies, and seized this place," he told demonstrators outside the former U.S. embassy in Tehran.
People were happy when they heard that their brave children had captured the "bastion of arrogance and colonialism" in Iran, and during the time the university students were in control of the place, thousands of people would gather outside the embassy to show their approval of the move, he stated.
All the people who had experienced tyranny and oppression during the rule of the shah blamed the U.S. for their suffering because they knew the regime had the full backing of the United States, and people were happy when the U.S. Den of Spies was seized, he added.
Haddad-Adel said the late Imam Khomeini, who was the symbol of freedom and independence, approved this move and the Founder of the Islamic Republic said the seizure of the Den of Spies was a second revolution that was even greater than the first revolution.
The documents obtained from the embassy showed the extent to which the U.S. conspired against Iran in the nine months after the revolution, he stated.
Contrary to its slogans in support of democracy, freedom, and human rights, the U.S. has always backed dictatorial governments, he noted.