Iran
Iranians mark Eid al-Fitr at end of holy fasting month of Ramadan under strict health protocols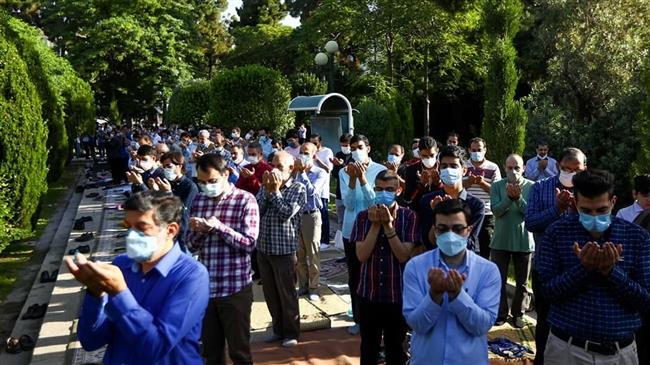 Iranians across the country are celebrating Eid al-Fitr, which marks the end of the holy fasting month of Ramadan, while observing strict health protocols due to the coronavirus pandemic.
The Office of Leader of the Islamic Revolution Ayatollah Seyyed Ali Khamenei announced that Thursday was Ei-al-Fitr after receiving multiple reports from reliable religious scholars and credible sources on the sighting of the crescent moon.
The Eid prayers have over the years been led by Ayatollah Khamenei at the Imam Khomeini Grand Prayer Grounds in Tehran but the event was canceled for the second consecutive year as part of measures put in place to contain the spread of the virus.
This year's prayers were held in the open campus of Tehran University with a limited number of participants as well as in other mosques in the capital under strict health protocols.
The participants have been requested to observe coronavirus-related guidelines and take containment reassures.
The number of confirmed coronavirus cases in Iran has passed the two-million mark and the total fatalities have gone beyond 75,000.
Vaccination of the most vulnerable groups is underway in the country.
In a message to Iranians, President Hassan Rouhani congratulated them on the occasion of Eid al-Fitr.
The Iranian president also extended felicitations to world Muslims and their leaders, expressing hope for the consolidation of the bonds of friendship among all Muslims across the globe, and the growth and promotion of Islamic culture.
Eid al-Fitr marks the beginning of the lunar month of Shawwal and the end of Ramadan — the ninth month in the Islamic calendar — when Muslims refrain from eating, drinking, smoking, and other corporal pleasures from dawn to dusk.