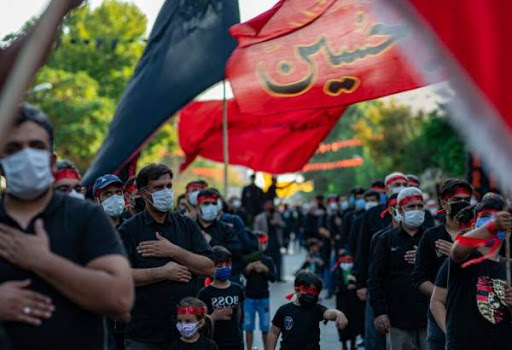 Imam Hussein and 72 of his companions were martyred by forces of the second Umayyad caliph, Yazid, in the modern day Iraqi city of Karbala. It happened after the Imam refused to pledge allegiance to Yazid, who was known for corruption and injustice.
After 14 centuries, the love for Imam Hussein continues to burn in the hearts of Muslims, who express it in the form of mass processions of black-clad mourners held annually on Ashura.
But this year, there's a difference as mass gatherings give their place to socially-distanced processions amid the coronavirus pandemic.
To contain the coronavirus pandemic, mourning procession are only allowed to be held in open-air environments. Mourners must have their masks on and keep a safe distance. Mourning venues are also disinfected beforehand.
Imam Hussein was the grandson of Prophet Mohammad. According to historical accounts, the Imam stood against Yazid to revive the true Islam taught by his grandfather.
Come rain or shine, Muslims do not miss out on Ashura ceremonies, not only as an occasion for mourning, but a means to preserve the legacy of Imam Hussein and pass it on to the next generation.