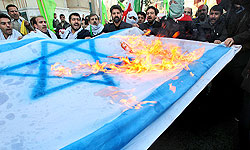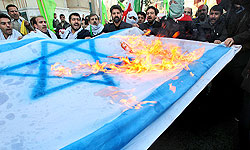 Hundred of thousands of Iranians all across the country staged demonstrations on Friday to protest against Israel's attacks on the oppressed Palestinian people in the Gaza Strip.
Iranians across the country, including in the capital Tehran, held massive anti-Israel rallies on Friday to condemn the new Israeli onslaught on the Gaza Strip.
Protesters unanimously condemned Zionists' crimes in the Palestinian enclave.
The people carrying placards chanted 'Down with the US' and 'Down with Israel' and other anti-Zionist slogans.
They voiced the Iranian nation's readiness to defend the Palestinian cause and remove the cancerous tumor, Israel, from the face of the world.
People also protested at the silence of the international community and the so-called advocates of the human rights on the crimes committed by Israel.
Over 23 people have been killed and more than 250 others injured in the new wave of Israeli attacks.
Assaults on Gaza started on Wednesday when the Israeli military launched a series of new air and sea attacks against the Palestinians in the coastal territory.