Economy
Iran
Middle East
North America
Iran's $4 trillion mining sector holds key to demolishing US sanctions
Iran is an energy superpower, holding the world's largest reserves of oil and gas combined. Oil has been the primary source of foreign currency for decades which, on the flip side, has relegated other industries to the fringes.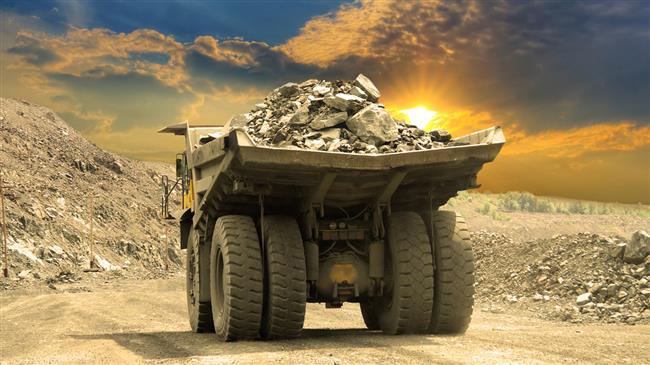 Iran's proven oil and gas reserves are the world's fourth and first largest respectively. But with its oil industry under a strict sanctions regime which has cut revenues, the country is beginning to take stock of its other resources and mining is emerging as a new field which Iran can count on for revenue generation.
The sector holds a key advantage over the oil industry: it is much harder to sanction the mining industry because of its immense diversity. From extremely sensitive radioactive materials to such ordinary substances as lime, the sector includes as many as 120 elements.
"There is a great variety of materials here, and secondly, the variety of consumers and producers of these materials is much greater than that of petroleum products," Deputy Minister of Industry, Mining and Trade Mehdi Karbasian told Tasnim news agency on Wednesday.
"If you list the number of oil entities in the world, it will be 10 to 15. Moreover, if you leave out those five or six main powers, no one else will be involved – the United States, Iraq, Russia, Iran, Saudi Arabia, Venezuela, Libya, Algeria, Kuwait and the UAE which add up to 10 countries," he added.
Other than that, oil is an extremely politicized field. It is more political than commercial, having been the subject of many colonial games from the time of its inception and frequent wars and conflicts in the most recent history and our time.
Iran's oil industry is currently on the frontline of the fight against the US which has slapped the sector with the most aggressive sanctions ever to drive the Islamic Republic's oil exports down to zero and dry up its revenues.
The Trump administration has broadened the scope of its sanctions on steel, aluminum, copper and iron trade, "but exports still continue because the consumer needs them," Karbasian said.
In January, a senior official said Iran expected its steel exports to touch 10 million tonnes in the year to March 21, 2020 despite "tyrannical" sanctions imposed on the country by the US.
The announcement came the same month the Trump administration imposed new sanctions on Iran's metals sector, targeting the construction, manufacturing, textiles, mining, aluminum, copper, iron and steel industries.
Iran is a leading producer of steel in the world, with officials saying exports continue despite the US sanctions.
The country plans to raise steel output to 55 million tonnes a year by 2025, of which 20 to 25 million tonnes would be earmarked for export.
Iran holds about 7 percent of the world's proven mineral reserves estimated at 60 billion tonnes, which include 68 types of minerals. However, mineral products account for only 0.6 percent of its GDP.
At current rates, Iran's mineral reserves are worth $700 billion, "but to be honest, this is definitely not an exact number," according to Karbasian.
Assuming that the value of Iran's mineral reserves is at least $700 billion, its added value would be $4 trillion, he said.
"Today, we only know about mines that are open; in other words, we have information up to depth of 100 and 150 meters of land, and we declare our reserves based on that, while we have not yet gone to the mines at great depths," he said.
Like developed countries such as South Korea, Japan, and even Australia and South America, where mining has shifted from the land to the oceans, "if we go down to the deep mines, we will surely achieve very positive results," Karbasian said.
However, the extractives industry in Iran is underdeveloped and major investment is needed to bring the sector out of the cold.
In January, the country launched a pilot project for extraction of rare earth after obtaining the technology for deep-level mining, with one official calling it a "big event".
Every year, Iran imports 180 tonnes of rare earth elements which are used in a wide range of consumer products such as catalysts in cars and oil refineries, televisions, superconductors and fiber optics.
Rare earth elements are a group of mostly strategic metals which appear in low concentrations in the ground. They have lately emerged as one of the fronts in an escalating trade war between China and the United States.
In June, officials said a heavy mineral sands prospect in northwest Iran was ready for production of titanium, marking another milestone in the country's sourcing of strategic metals.
The Qara-Aghaj deposit near Urmia, estimated to hold 120 million tonnes of titanium-bearing ores, was brought into operation, pending the establishment of processing plants, provincial deputy head of the industry, mine and trade organization Parisa Abedpour told IRNA.
Qara-Aghaj is one of the largest known titanium ore deposits, containing 30 percent of Iran's overall reserves. The other major titanium prospect is Kahnuj in Kerman, estimated to hold 150 million tonnes. The Fanuj mine in Iran's Sistan and Baluchestan province is another base for titanium deposits.
The operation of the Kahnuj plant put Iran in the league of a few countries which produce titanium – the strategic metal of the century, named after the powerful Titan gods in Greek mythology.