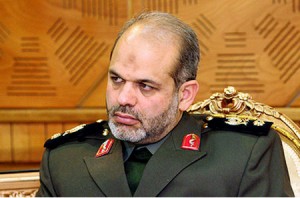 Iran's Defense Minister Brigadier General Ahmad Vahidi has arrived in the Syrian capital Damascus at the head of a high-ranking delegation.
The Iranian official was formally invited by the Syrian Defense Minister Lt. General Ali Mohammad Habib Mahmoud.
"We will discuss ways to develop bilateral defense cooperation between the two countries," Vahidi said after arriving in Damascus on Tuesday night.
"It is a necessity for peace-seeking Islamic countries to make efforts to provide peace and security," he added.
"That is why Iran is ready to improve its relations with all regional countries within a defense policy framework," he further said.