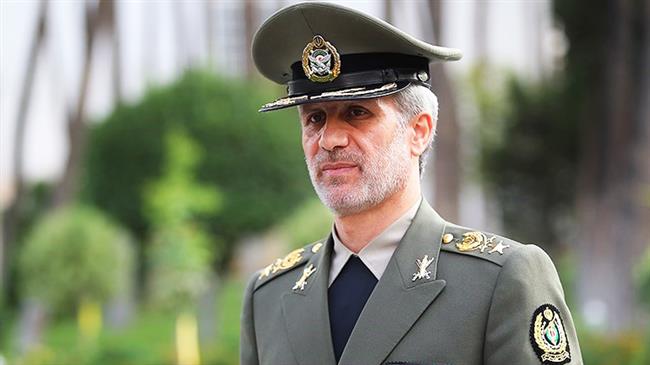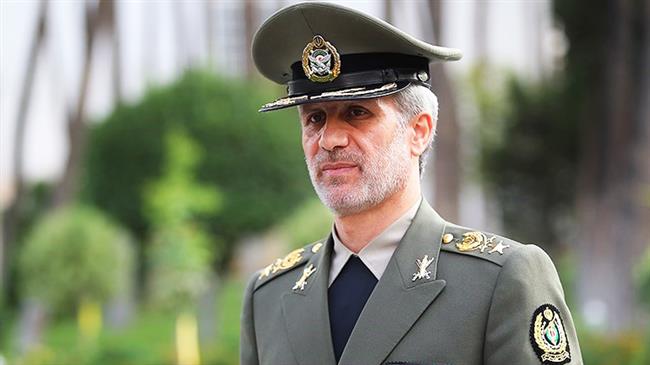 Iranian Defense Minister Amir Hatami has arrived in Syria for a two-day visit to discuss a number of issues, including ways of expanding defense and military cooperation. 
Hatami told reporters at Damascus airport on Sunday that the aim of the visit was to boost bilateral cooperation under the new conditions in Syria and its transition to the reconstruction phase.
"We hope to be able to have a productive role in the reconstruction of Syria," Fars news agency quoted him as saying.
Hatami, who is being accompanied by a high-ranking delegation on the invitation of his Syrian counterpart General Ali Abdullah Ayyoub, is due to meet senior defense and military officials as well as President Bashar al-Assad.
Fars said the most important topics for discussion were the review of the regional developments, the fight against terrorism, the strengthening of the resistance axis and the study of strategies for expansion of defense and military cooperation.
The two sides were also expected to sign an agreement on defense and military cooperation which will define the framework for bilateral cooperation.
At the start of his visit, Hatami congratulated Syria on its victories in the battle against terrorists, hailing them as a turning point in "the axis of resistance's regional cooperation".
His visit follows Chairman of the Chiefs of Staff of the Iranian Armed Forces Major General Mohammad Baqeri's trip to Syria last October.
Iran and Syria enjoy strategic relations. Syria was the only Arab country that supported Iran during the Iraqi-imposed war in 1980s.
At the request of Damascus, Iran has been providing military advisory assistance to the Syrian government forces who are fighting an all-out foreign-sponsored militancy.
Iran's military presence in Syria is a thorn in the side of Israel. On April 9, an Israeli airstrike against the T-4 airbase in Syria's Homs Province killed more than a dozen people, including seven Iranian military advisers.
Tel Aviv wants Syria to ask Iranian advisers to leave the country and dismantle what it claims to be Iranian military bases.
In an interview with the al-Alam News Network in June, Assad said Iran does not have any military bases in Syria, but if there is "a need for Iranian military bases, we will not hesitate."
Assad said Damascus had invited Iran and Russia to Syria, unlike the American, French, Turkish and Israeli troops who are occupying forces.
In his remarks in Damascus Sunday, Hatami said, "No third party can affect the presence of Iranian advisers in Syria."