Iran
Middle East
North America
World News
Iran's foreign minister: US Treasury's OFAC nothing more than jail warden
Iran's Foreign Minister Mohammad Javad Zarif has taken to task the US Treasury's Office of Foreign Assets Control (OFAC) as the main force behind imposition of Washington's sanctions against Tehran, saying that it only serves the role of a jail warden with regard to other countries.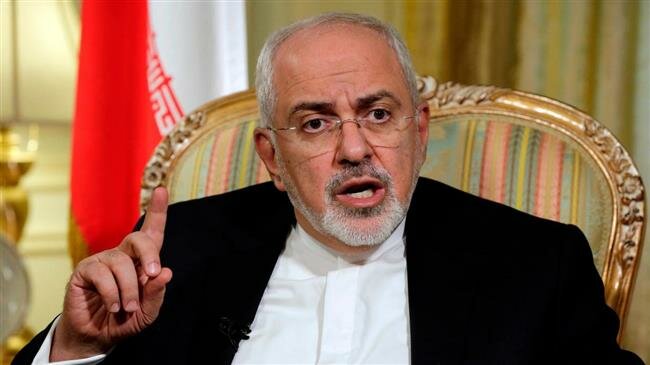 Zarif made the remarks on Thursday through a new post on his official Twitter account, saying, "#OFAC is nothing more than a JAIL WARDEN."
Using figurative language, Iran's top diplomat said if any prisoner dared ask for reprieve in its punishment (in this case, waiver on sanctions), it would be "thrown in solitary for the audacity," and if it asked again, it "might end up in the gallows."
Zarif concluded his tweet by saying that the only way to mitigate US economic terrorism, which is carried out in the form of imposing sanctions on other countries is "to decide to finally free yourself from the hangman's noose."
Zarif's remarks came after the United States on Wednesday imposed sanctions on an Iranian shipping network – several tankers, companies and insurance firms — accusing it of supplying millions of barrels of oil to Syria.
The US Treasury Department announced the illegal sanctions on 16 entities, 10 people, including a former Iranian oil minister, and 11 vessels, as Washington continued its campaign of "maximum pressure" against Tehran, seeking rise in tensions in the Middle East region.
Addressing the media the same day, Brian Hook, the US special representative for Iran, said the United States would not provide any sanctions waivers to accommodate a French proposal to extend a $15 billion credit line to Iran.
Paris had apparently asked Washington to open a $15 billion credit line for Iran to help the Islamic Republic cope with the effects of America's unilateral economic sanctions in exchange for Iran's return to fully implementing the landmark nuclear deal clinched by Iran and five world powers back in 2015, which if officially known as the Joint Comprehensive Plan of Action (JCPOA)..
Iran had already rejected the idea of a credit line, saying the only way it returns to JCPOA terms is when oil exports return to pre-sanctions levels.
"We did sanctions today. There will be more sanctions coming. We can't make it any more clear that we are committed to this campaign of maximum pressure and we are not looking to grant any exceptions or waivers," Hook told reporters.
Iran has already reduced its commitments under the JCPOA in two phases, with Iranian President Hassan Rouhani saying on Wednesday that the country will take a third step in this regard by expanding its nuclear research and development as of September 6, setting aside the restrictions imposed on the country's R&D in the 2015 nuclear deal with world powers.
Iran started scale back its commitments under the nuclear accord after the United States, as a party to the deal, withdrew from the JCPOA last may in a measure, which has been considered by other parties to the deal illegal and unilateral. After that, Washington reinstated unilateral sanctions against Iran, which had been lifted under the deal and started a campaign of "maximum pressure" against Tehran.
Iran to expand its nuclear R&D as of Friday: RouhaniPresident Rouhani says the country will begin the third phase of reducing its commitments under the 2015 nuclear deal on Friday.
On Tuesday, the United States moved to impose new sanctions on Iran's space program.
The Trump administration's hawkish Secretary of State Mike Pompeo said Iran's space program and two of its research institutes have been sanctioned.
"The United States will not allow Iran to use its space launch program as cover to advance its ballistic missile programs. Iran's August 29 attempt to launch a space launch vehicle underscores the urgency of the threat," claimed the former CIA chief.
In reaction, Zarif on Wednesday downplayed as "ineffective" the United States' sanctions on Iran's space program, saying Washington's extreme use of economic leverage will gradually threaten its economic might.
Such sanctions, he said, "have no effect, and the world will gradually begin to mock the United States, too." Washington's "use of sanctions as economic leverage has become so extreme that it will gradually pose a threat to the US economic power," he added.
Zarif: US sanctions on Iran's space program 'ineffective'Iran's Foreign Minister Mohammad Javad Zarif downplays as "ineffective" the US's fresh sanctions on the Iranian space program.
The EU on Thursday urged Iran to reverse its scale-back of commitments to the nuclear accord.
"These activities we consider are inconsistent with the JCPOA. And in this context we urge Iran to reverse these steps and refrain from further measures that undermine the nuclear deal," European Commission spokesman Carlos Martin Ruiz de Gordejuela told a media briefing in Brussels.