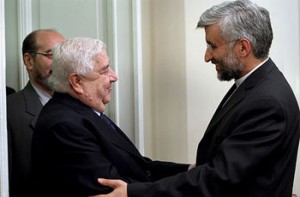 Saeed Jalili, Secretary of Iran's Supreme National Security Council, has arrived in Damascus for bilateral talks on matters of mutual interest.
Jalili, heading a political delegation, was received by Assistant Foreign Minister Ahmad Arnous upon his arrival at the Syrian capital.
During his official visit, Jalili is expected to meet with President Bashar al-Assad and Foreign Minister Walid al-Muallem.
Bilateral cooperation as well as regional and international issues will be high on the agenda.
Jalili will also meet members of various Palestinian movements.
This is Jalili's second visit to Syria as Secretary of the Supreme National Security Council.