Iran
Iran's Majlis speaker sends message to Nasrallah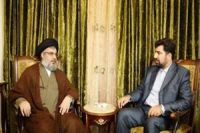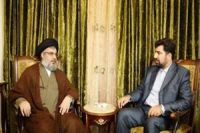 Speaker of Iran's Parliament (Majlis) Ali Larijani has sent a message to Secretary General of Lebanon's Hezbollah Hassan Nasrallah to felicitate the 13th anniversary of the liberation of south Lebanon from Zionist regime's occupation.
According to IRNA, the message was submitted to Nasrollah by Iran's Ambassador to Lebanon Ghazanfar Roknabadi in a meeting which was held in Beirut on Wednesday.
Lebanese celebrated the Liberation Day on Saturday to commemorate the Zionist regime's pullout from south Lebanon after 22 years (on May 22, 2000) as a clear military defeat for Tel Aviv.
According to Iran's Embassy in Lebanon, Larijani referred to the Zionist regime as a cancerous tumor in his message.
Meanwhile, Nasrallah appreciated Iran's all-out support for the Lebanese Resistance, stressing that Iran played a key role in bringing victory for the resistance movement.
He stressed that the resistance movement would continue its way towards achieving its goals with more power than before.
Nasrallah further said the region was witnessing a critical situation.
He urged regional nations to stay vigilant against enemiesˈ plots as well as conspiracies made by the Zionist regime.
The two officials also discussed regional developments as well as issues of mutual interest during the meeting.