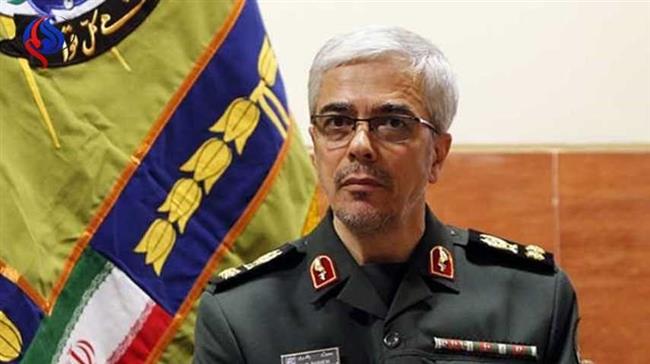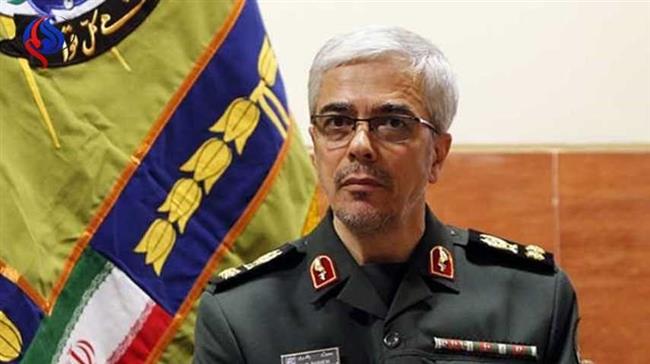 Iran's military chief is to visit Pakistan after the countries agreed, alongside Russia and China, to join efforts in fighting Daesh in Afghanistan. 
Chief of Staff of the Iranian Armed Forces Major General Mohammad Baqeri is to make the trip at the head of a ranking military delegation upon the invitation of his Pakistani counterpart General Qamar Javed Bajwa "soon," Tasnim News Agency reported on Saturday.
The two sides will be discussing development of bilateral defensive cooperation and relations, border security, and fighting terrorism as well as the developments across the region and the Muslim world.
Bajwa visited Tehran last November after 10 Iranian border guards were killed and two others injured in an ambush near the town of Mirjaveh in the southeastern Iranian province of Sistan and Baluchestan, which borders Pakistan.
The upcoming visit by Baqeri is also expected to feature assessment of the progress made in the implementation of the agreements reached between the countries during Bajwa's visit.
Fighting Daesh
On Friday, English-language Pakistani daily The Nation reported, citing defense sources that senior intelligence officials from Iran, Russia, China, and Pakistan had reached an agreement to join efforts against Daesh's presence in Afghanistan.
The officials agreed over integrated efforts for rooting out the outfit from Afghanistan during a meeting in the Pakistani capital of Islamabad. Sergei Ivanov, the chief of the press bureau of the Russian Foreign Intelligence Service, had also told Russia's TASS news agency about the meeting on Tuesday.
The quartet also agreed on confronting "all other terrorists groups" in the Central Asian country, the daily said.
The drive, it wrote, was aimed at "ensuring regional peace and to eliminate terrorism from the region".
The meeting also discussed ways to stop the arrival of Daesh Takfiri terrorists from Iraq and Syria in Afghanistan.
The participants further agreed to share intelligence towards fighting terror.
The Russian side cited the Russian intelligence agency as announcing that around 10,000 Daesh terrorists were functioning actively in nine provinces in Afghanistan.
The Iranian side cited concerns regarding Daesh's growing influence in Afghanistan, according to The Nation.
The group's Afghanistan branch, known as Daesh-Khurasan, was "involved in planning continued suicide attacks especially in Pakistan," the meeting was told.
Most recently, the group claimed responsibility for a bomb attach that killed at least 128 people in an election rally in Pakistan's southwestern province of Baluchistan on Friday.
Daesh began its campaign of bloodshed and destruction in Iraq and Syria in 2014. It seized large swathes of land in lightning strikes, prompting the countries to call for the help of their allies, including the Islamic Republic.
Iran has been lending military advisory assistance to the Iraqi and Syrian armies in the face of the terrorists.
The group was defeated in both countries towards the end of last year. It's remnants, however, are still active.
The group maintains a presence in Afghanistan, most notably in the eastern province of Nangarhar.