Iran
Iran's Minister of Economy and Finance Shamseddin Hosseini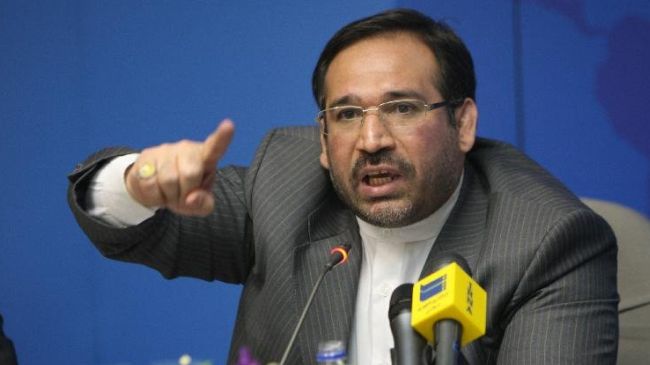 Iran's economy minister says Tehran has devised a series of strategies to counter the effects of the West's sanctions against the country.
"Now that these sanctions have been imposed, we have encountered them realistically and tapped into all domestic potentials to deal with them," said Iran's Minister of Economy and Finance Shamseddin Hosseini at a Tuesday news conference in New York.
He pointed to the West's sanctions against the Central Bank of Iran and noted, "When sanctions are imposed against the central bank of a country, it means that monetary transactions will face problems, even for the purchase of medicine or auto parts, and this is the inhumane aspect of sanctions."
At the beginning of 2012, the US and the European Union imposed illegal sanctions on Iran's oil and financial sectors in a bid to prevent other countries from purchasing Iranian oil and conducting transactions with the Central Bank of Iran.
The illegal US-engineered sanctions were imposed based on the unfounded accusation that Iran is pursuing non-civilian objectives in its nuclear energy program.
Referring to Iran's counter-measure, Hosseini said, "By boosting non-oil exports, we tried to make up for the drop in oil sales; as a result, non-petroleum exports, particularly in the industry and agriculture sectors, grew 20 percent last year."
The Iranian minister also alluded to the West's campaign to monopolize state-of-the-art know-how, including in the areas of aerospace, nanotechnology and nuclear technology.
"We believe that the nuclear issue is not the [real] motive for those imposing the sanctions; rather, it is a cover-up to paralyze Iran's economy," he said.
He said Iran will forge ahead with its scientific programs, and added that "these plans, particularly in the nuclear domain, have been devised to cure patients, create wealth and provide more welfare for the people."
Among other strategies devised by Iran, he said, are further encouraging the private sector's participation and finding new trade partners.
"We do not welcome the sanctions, but we are prepared to face them," the minister said.