Iran
Middle East
North America
Iran's nation emerged victorious in clash of wills with US: Rouhani
President Hassan Rouhani says the former US administration put forth its utmost efforts but failed to bend Iran to its "disgraceful will," and the nation emerged victorious in the "clash of wills" and defeated Washington's so-called maximum pressure campaign.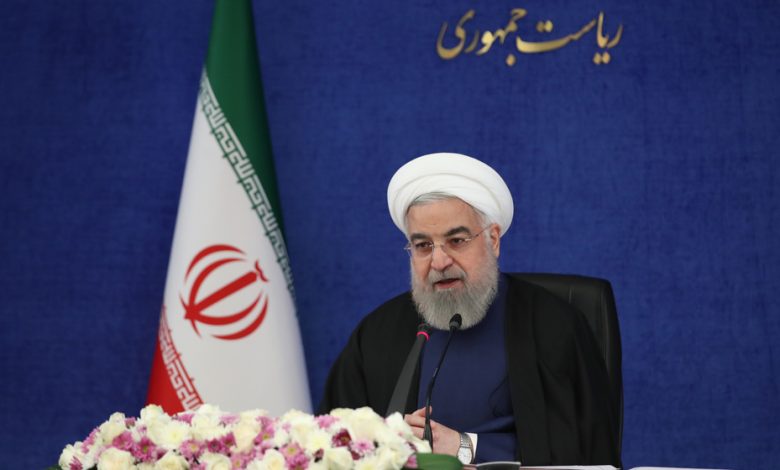 "The Americans sought to do something to bring about the [Islamic] establishment's collapse, but our people endured the sufferings over the last three years, and the establishment has grown more powerful today compared to three years ago in light of the sacrifices of this great and resilient nation," Rouhani said in an address to the inauguration ceremony of a number of national projects on Thursday.
He was referring to the term of ex-US president Donald Trump, who initiated the "maximum pressure" campaign against Iran by imposing the "toughest ever" sanctions aimed at paralyzing the country's economy.
"The new rulers of the White House repeatedly announce that the policy of [economic] war and maximum pressure pursued by the former US administration has only led to defeat. In other words, our nation has achieved a great victory." he added.
The president said this "great epic" created by the Iranian nation, encourages all freedom-seekers across the world to stand up to oppression and aggression.
Referring to the US's unilateral sanctions on Iran over the past three years, Rouhani said although the Iranian people have through a very difficult time, especially economically, they achieved brilliant victories in moral, political and legal arenas.
In 2015, Iran and six world states — namely the US, Germany, France, Britain, Russia and China — signed the historic nuclear deal — formally named the Joint Comprehensive Plan of Action (JCPOA) — which was ratified in the form of UN Security Council Resolution 2231.
However, the US under former president Donald Trump unilaterally pulled out of the JCPOA in May 2018 and reinstated the anti-Iran sanctions that had been lifted by the deal.
However, Trump's maximum pressure has been met with Iran's "maximum resistance" policy, which includes austerity measures to weather the economic pressure as well as reduction of Tehran's commitments under the JCPOA.
The administration of new US President Joe Biden has acknowledged that Trump's "maximum pressure" policy against Iran failed to achieve each and every single one of its aims, but it has yet to take measures to reverse course.
Elsewhere in his remarks, Rouhani said the Iranian nation has succeeded in achieving another "honorable" epic through its resistance in the face of the enemy's economic war after the outbreak of the deadly coronavirus pandemic.
He noted that Iran has managed to adopt positive measures to produce COVID-19 vaccines at home.