Iran
Iran's new President Hassan Rohani has taken the oath of office at the Iranian Majlis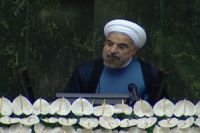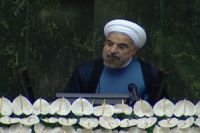 Iran's new President Hassan Rohani has taken the oath of office at the Iranian Majlis (Parliament), one day after being endorsed by the Leader of Islamic Ummah and Oppressed People Imam Seyyed Ali Khamenei.
Iranian lawmakers and senior officials as well as foreign dignitaries attended the swearing-in ceremony in Tehran on Sunday.
Rohani, whose four-year tenure officially started on Sunday, takes over from Mahmoud Ahmadinejad.
Delegations from over 50 countries attended Rohani's inauguration ceremony. Among the foreign dignitaries present are 10 presidents, six vice-presidents, two prime ministers, eight parliament speakers as well as several prominent former officials.
Former European Union foreign policy chief, Javier Solana, and former Malaysian Prime Minister Mahathir Mohamad also took part in the ceremony as special guests.
UN Deputy Secretary-General Jan Kubish also participated in the event as the representative of UN Secretary-General Ban Ki-moon.
During his swearing-in ceremony, the new Iranian president called on Western governments to "speak to Iran not with the language of sanctions, but with the language of respect."
The new chief executive noted that the only way for interaction with Iran is "dialog on equal footing, mutual confidence-building, mutual respect, and reduction of hostilities," adding that his policy would be based on "reducing tensions, mutual confidence-building, and constructive interaction" with the world.
At the end of the ceremony, Rohani also unveiled the proposed list of nominees for his cabinet.