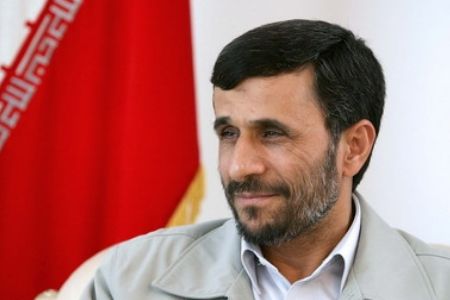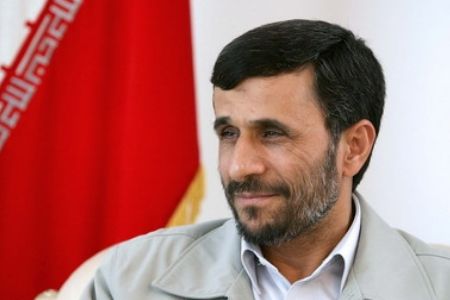 Iranian President Mahmoud Ahmadinejad says the country will not negotiate with anybody on its inalienable right to a civilian nuclear program.
"Iran will not enter into talks with anybody on its indisputable nuclear right, but we are ready for negotiations on international cooperation, and we have offered a package of proposals in that regard as well," Ahmadinejad was quoted by Fars news agency as saying in an exclusive interview with the Azeri Leader TV channel.
According to the Iranian chief executive, the West has adopted a political approach toward Tehran's peaceful nuclear issue, not a legal one.
President Ahmadinejad underlined that most world nations have expressed their support for Iran's peaceful nuclear work.
"Most world governments have recognized Iran's nuclear rights, and only a few Western countries are using the language of force. However, the heads of these states have understood that resorting to force is of no use," he went on to say.
"No one can hurt Iran and it is in the interest of the Western states to cooperate with the Iranian nation, and we welcome cooperation because we believe cooperation will benefit all," he noted.
Elsewhere in his remarks, the president further said Iran considers the Azerbaijan Republic's progress as its own, highlighting the need to further boost already flourishing ties between the two sides.
President Ahmadinejad stated that growing Tehran-Baku relations will not only benefit the two nations, but serve the interests of the regional countries as well.
"Iran and [the] Azerbaijan [Republic] are set to further promote their relations," he said. "The two countries have launched good programs in the fields of joint investment, energy and trade."
He also underscored that the Islamic Republic will always stand by Azerbaijan, and defend its rights, security and independence.
President Ahmadinejad further said the Azerbaijan-Iran-Persian Gulf route is seen as a perfect "north-south transportation corridor" whose development will be in the interest of all regional nations, particularly their businessmen and merchants.
He also pointed to the Caspian Sea, stressing that issues related to the land-locked sea should be settled with 'patience' and 'prudence.'
Ahmadinejad said the most significant political issue regarding the Caspian Sea is its security and added it falls upon the Caspian littoral states to ensure the security of the sea.
Elsewhere in his remarks, the Iranian president urged countries in the Middle East to fight extremism.
"The region is facing threats such as extremism, and promotion of cultural ties among regional nations is the only way to deter it," said the president.
President Ahmadinejad then turned to the Qarabaq conflict, urging a negotiated settlement of the issue based on justice and mutual respect. He said the Islamic Republic is ready to help resolve the issue.
President Ahmadinejad also said foreign intervention will only make it more difficult to solve regional problems.