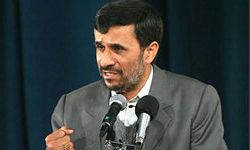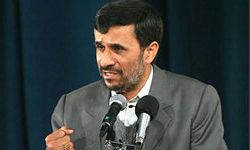 Iran's President Mahmoud Ahmadinejad has denounced the US-made anti-Islam movie that insults Prophet Muhammad (PBUH), saying the Islamic Republic condemns extremism in all forms.
"Fundamentally, first of all, any action that is provocative, offends the religious thoughts and feelings of any people, we condemn," Ahmadinejad told CNN's Piers Morgan in an interview on Sunday.
"Likewise, we condemn any type of extremism. Of course, what took place was ugly. Offending the Holy Prophet (PBUH) is quite ugly. This has very little or nothing to do with freedom and freedom of speech. This is the weakness of and the abuse of freedom, and in many places it is a crime. It shouldn't take place, and I do hope the day will come in which politicians will not seek to offend those whom others hold holy or sanctity," he added.
He stressed the importance of settling the issue "in a humane atmosphere, in a participatory environment," reiterating that "we do not like anyone losing their lives or being killed for any reason, anywhere in the world."
Asked whether he thinks that protesters should stop threatening US staff abroad, he emphasized that he cannot determine what other people or nations should do.
"But I do think that extremism gives birth to following and subsequent extremists," the Iranian president pointed out.
On September 11, US Ambassador to Libya Christopher Stevens and three other consulate staff members were killed in Benghazi after clashes involving a group of angry demonstrators near the consulate building.
"Perhaps if the politicians take a better position in the West vis-a-vis offensive words or thoughts or pictures towards what we hold holy, I think conditions will improve," Ahmadinejad said.
Outrage is growing globally over a US-made movie which is reportedly funded by Zionist donors.
The anti-Islam movie has triggered days of huge demonstrations in Muslim countries, as well as in non-Muslim states like Australia, Britain, the United States, France, Belgium and some other countries.
Iran's President Ahmadinejad arrived in New York on Sunday to participate in the 67th session of the UN General Assembly.
Ahmadinejad is scheduled to address the session on Wednesday and elaborate on the Islamic Republic's stance on key international issues.