Iran
Iran's President Rouhani due in Iraq on March 11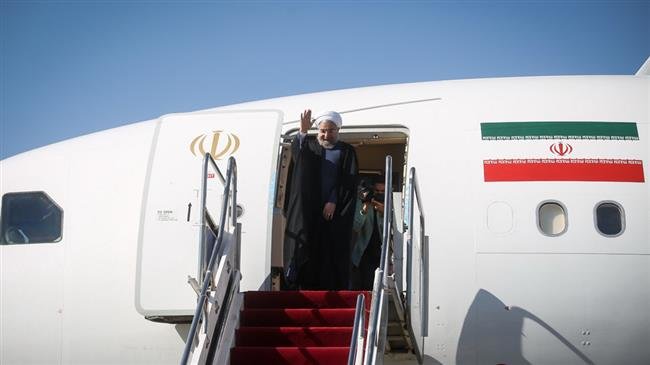 Iran's President Hassan Rouhani is set to pay an official visit to Iraq later this month in order to boost bilateral ties between the two neighbors amid US sanctions against the Islamic Republic.
Rouhani will travel to Baghdad on March 11 to hold talks with Iraqi officials, Iran's Tasnim news agency reported. A high-ranking delegation is set to accompany the president.
Iranian Foreign Minister Mohammad Javad Zarif and his deputy Seyyed Abbas Araqchi as well as Minster of Petroleum Bijan Zangeneh and Central Bank Governor Abdoldnaser Hemmati have all – in their recent trips to Iraq – made preparations for Rouhani's upcoming visit, the report added.
It will be Rouhani's first visit to Iraq during his tenure.
Zarif had earlier said that Rouhani's trip was organized at an official Iraqi invitation.
In November 2018, Iraq's President Barham Salih met with senior Iranian officials in Tehran.
He discussed strengthening economic relations between the two countries and appreciated Iran's support for the Iraqi nation in its fight against both former dictator Saddam Hussein and terrorism.
Iraq shares a 1,450-kilometer border with Iran. The two countries enjoy close relations in different fields.
At Baghdad's request, Iran has been providing military advisory assistance to Iraq in its counter-terrorism campaign.
Earlier this week, Ammar Hakim, Iraqi Shia cleric and head of National Wisdom Movement (Hikma), said Rouhani's upcoming visit to Baghdad at the current critical juncture revealed the two neighbors' resolve to broaden their ties.
He also stressed that Iraq has not given in to the US pressure to comply with the anti-Iran sanctions.
"The Iraqi government tries to keep the balance in its relations with other countries in accordance with the international law, Iraq's interests, as well as moral and humanitarian values," Hakim added.
Iraq relies heavily on Iranian natural gas to feed its power stations, importing almost 1.5 billion standard cubic feet per day. It also imports electricity and a wide range of goods from Iran.
Separately, Iraqi Deputy Foreign Minister Nazar al-Khairullah highlighted the importance of Rouhani's "historic" visit, saying it would be a "turning point" in Tehran-Baghdad relations.
In an interview with IRNA news agency, he further noted that both the Iraqi government and nation are looking forward for Rouhnai's trip.
The Iranian president's planned Baghdad visit comes at a time that calls have grown in Iraq for the withdrawal of American troops from the Arab country.
Last December, US President Donald Trump traveled to Iraq secretly, prompting a wave of fury and condemnations there.
Trump spent a few hours at al-Asad Air Base in Iraq's western Anbar Province, but did not visit Baghdad.
A scheduled meeting between Trump and Iraqi Prime Minister Adil Abdul-Mahdi was scrapped and they only talked over the phone.