Iran
Iran's President to Go to Parliament to Defend Three Nominees for Ministerial Posts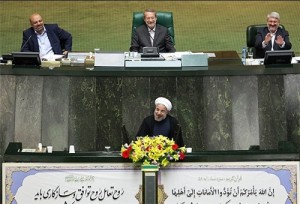 The Iranian Parliamentarians will host President Hassan Rouhani on Sunday to discuss a vote of confidence to his nominees for the three remaining cabinet posts, Vice-President for Parliamentary Affairs Majid Ansari said.
During the Sunday parliament session, Rouhani will be given one hour to defend the three nominees for the ministerial posts, Ansari said.
A number of Cabinet ministers and the First-Vice President Eshaq Jahangiri will also attend the parliament session, the official added.
Last Saturday, President Rouhani introduced Seyed Reza Salehi Amiri as the Minister of Sports and Youth, Ali Asqar Fani as the Education Minister and Reza Faraji Dana as the Minister of Science, research and technology.
In August, the Iranian parliament gave votes of confidence to 15 of the president's nominees for the cabinet posts, but rejected 3 others.
After four days of hard work, the Iranian legislature approved President Rouhani's nominees for the posts of Intelligence, Interior, Foreign Affairs, Oil, Energy, Roads and Urbanization, Agricultural Jihad, Defense, Telecommunications and Information Technology, Economy and Financial Affairs, Health, Cooperative and Labor, Justice, Industry and Mining and Trade, and Culture and Islamic Guidance Ministries with almost unprecedentedly high votes of confidence.
Yet, the MPs refrained from approving the president's choice for the posts of Education, Science, Research and Technology, and Sports and Youths Affairs Ministries.