Iran
Iran's Quranic activists honored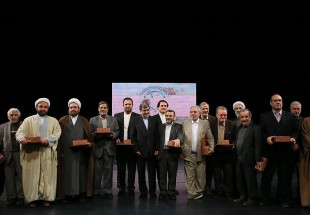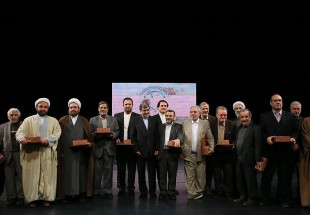 The 21st edition of an annual ceremony to honor Iranian Quran activists and organizations active in promotion of the Holy Quran was held Tuesday in Tehran.
It was attended by cultural and Quranic officials and figures, including Minister of Culture and Islamic Guidance Ali Jannati, Deputy Culture Minister for Quranic Affairs Hojjat-ol-Islam Mohamamd Reza Heshmati, Head of the Parliament's Quran and Etrat Fraction Laleh Eftekhari, Head of the Dar-ol-Quran Organization Mehdi Qarasheikhlu, and Managing Director of the International Quran News Agency(IQNA) Hamid Saber Farzam.
Prominent Qari Mohammad Reza Pourzargari began the event by reciting verses from the Holy Quran.
Next, Hojat-ol-Islam Heshmati addressed the ceremony, calling for a rise in the country's Quranic budget to promote the Quranic culture.
The culture minister also delivered a speech, in which he lauded those selected to be honored at the ceremony for their efforts in promoting the Quran.
He underlined that all means, including books, arts, movies, etc, should be employed for promoting the culture of the Quran in society.
Jannati added good steps have been taken in that direction with the establishment of the Council for Promotion of the Quranic Culture but there is a lot more needed to be done.
13 Quran activists including Mohammadreza Savadkuhi, Hossein Sabaqian, Majid Baqeri and Hossein Salehi as well as organizations and institutes including Nasim-e Vahy from the city of Khalkhal, Maktabol-Quran from Natanz and Nurol-Anvar from Shadegan were among those honored at the ceremony.