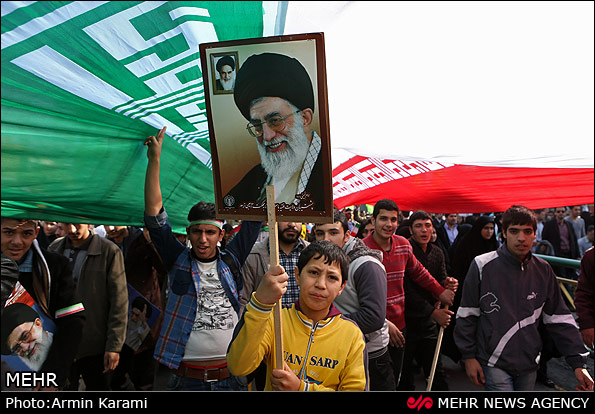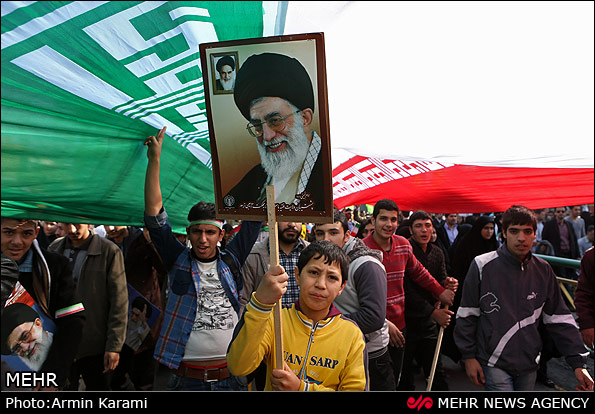 The ceremony of 34th anniversary of victory of Islamic Revolution of Iran has been held with great rallies by Iranians under wide coverage by regional and international media.
Though 34 years have been elapsed since Islamic Revolution of Iran happened, for Iran's critical situation in the region and international community, the anniversary has preserved much of its heat and importance, and thus, western media have covered the people's rallies.
Yesterday, more than 220 foreign reporters covered this event from inside Iran. The reports focused on 4 themes. With years of Western pressures on Iran, intended to heighten discord between the people and state, media such as Xinhua, Aljazeera, and Sana focused on people's majority rallies and their expression of support for the Supreme Leader.
For example, Xinhua wrote that "Hundreds of thousands of Iranians, carrying flags and banners in support of the Islamic administration, celebrated nationwide the 34th anniversary of the Islamic revolution on Sunday."
Aljazeera and Syrian state news agency (SANA) pointed to wide rallies by Iranians and their support for the state and the Leader of the Islamic Revolution.
On the other hand, it seemed that, with US negotiation proposal to Iran, some media focused on people's reaction to proposal and slogans against US and Israel. For example, Associated Press wrote that "Iranians are rallying across the country to mark the 34th anniversary of the 1979 revolution that deposed a pro-West monarch and brought in the Islamic Republic… Many demonstrators were chanting "Down with the U.S." and "Death to Israel," slogans traditionally used to denounce the Islamic Republic's arch-enemies."
The third theme of Western media was remarks by Mahmoud Ahmadinejad on Iran's preparation for talks with the US if Western pressures were removed.
Reuters headlined "Iran rejects Western pressure on revolution anniversary."
Associated Press and CNN also focused in the same theme. Interestingly, Israel's media saw 'talks with the US' theme in yesterday's rallies. Haaretz published a report where it highlighted
Ahmadinejad's remarks on talks with US, which conditioned it to removing threats against Iran.
While President's remarks were in line with the Supreme Leader's a few days ago, Israeli media have launched attempts to depict his remarks as acceptation of talks with the US. Yediot Aharonot and Jerusalem Post had taken exactly the same approach.
The fourth theme was Iran's presidential elections. Some media had drawn upon Ahmadinejad's remarks. For example, BBC wrote that "during the anniversary of Islamic Revolution victory, Iran's president warned those who wanted to 'engineer and manage' the upcoming presidential elections in future year."