Iran
Iran's Rouhani renews pledge to back Iraq in fighting terror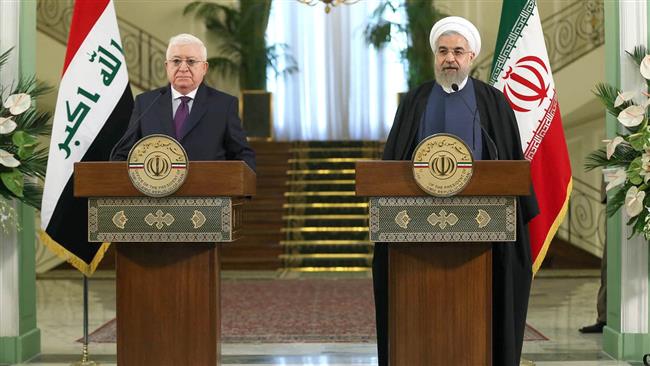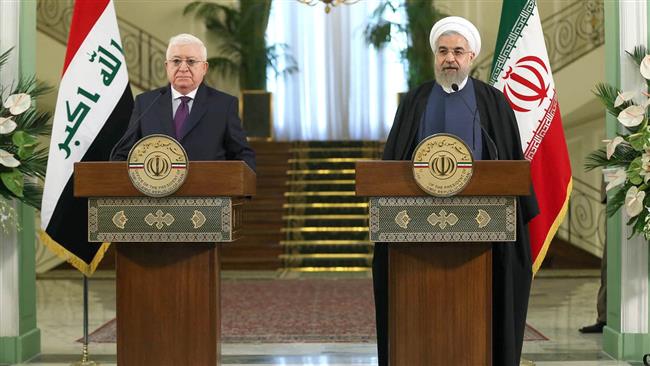 Iranian President Hassan Rouhani says the Islamic Republic will keep supporting neighboring Iraq in its fight against terrorism.
"Iran is ready to, in line with safeguarding [Iraq's] stability, security and fight against terrorism, render whatever assistance requested to the Iraqi government," President Rouhani said in a joint press conference with his Iraqi counterpart Fuad Masum in Tehran on Wednesday.
Rouhani said that Iraq's security is intertwined with that of Iran, and stressed that Tehran attaches great significance to stability and security in its western neighbor.
The Iranian president described Iraq as a united country, stressing that the Iraqi people will not allow foreigners to make decisions about the future of the Arab nation.
Touching on Yemen, Rouhani described the situation in the war-hit Arab country as "very grave" and called for a real truce there.
The Yemeni issue is not a political or a regional issue, but a humanitarian one for the regional countries and the world, Rouhani said.
Rouhani also appealed to all regional nations to step up efforts to contain the spread of terrorism and criticized certain states for using terrorism as a tool to achieve their political interests.
The Iraqi president, for his part, thanked Iran's support for his country in fighting terrorists, including ISIL militants, and warned that the ISIL terrorist group poses a threat not only to Iraq but to the entire region.
The ISIL Takfiri terrorist group, with members from several Western countries, controls swathes of land in Iraq and Syria. Over the past months, the Iraqi army, backed by volunteer fighters, has managed to liberate several areas in the country from ISIL militants.
Masum also called for a political solution to the crisis in Yemen and rejected any military intervention in the country.
Saudi Arabia started its military aggression against Yemen on March 26 – without a UN mandate – in a bid to undermine the Houthi Ansarullah movement, which currently controls the capital, Sana'a, and other major provinces, and to restore power to Yemen's fugitive former President Abd Rabbuh Mansour Hadi, who is a steadfast ally of Riyadh.