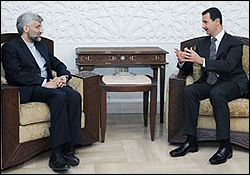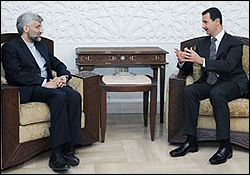 Iranian Supreme National Security Council (SNSC) Secretary Saeed Jalili met with Syrian President Bashar al-Assad in Damascus on Tuesday.
Syria has been gripped by the unrest triggered by armed groups fighting against the government of Syrian President Bashar al-Assad. Iran says a foreign conspiracy, designed to undermine the country, supports these groups, whose aim is to bring down a government, which is resisting Zionist aggression in the region.

"One should not allow the enemies to take revenge for their defeat by the resistance (movement) on the Syrian people," Jalili told Assad.

Jalili reiterated Tehran's position that democracy or respect to people's vote is the only solution to the Syrian crisis.

For his part, the Syrian president said the shipment of arms to terrorists by certain foreign countries is unacceptable.

President Assad again insisted that his government is determined to respond to people's demands in a democratic way.

Assad again thanked Iran for its stance toward developments in Syria.

Jalili arrived in Damascus after talks with Lebanese officials in Beirut on Monday.

Iran plans to host a foreign ministerial meeting on Syria on August 9.